July 7th I set out for my trip across the large mass of land known as the United States of America in my '83
Alfa Romeo Alfetta GTV6
. (Yes, it deserves to be called by its full name just once in this story.) I have wanted to do this for years, and finally I had the time and a little money to do it. The car was shipped over from the Netherlands (my home country) two years ago, as I'm studying in the US, and now is going to see, after seeing the whole of Europe, the whole of the USA.
The objective is to attend two funeral ceremonies in Nebraska for my travel partner Pierce's father, and scatter his ashes according to his will, and then reach a wedding in Brent's pass Oregon on the 20th of July, while leaving New Haven, Connecticut on the 7th. Then, Pierce will depart and set off to Turkey to be joined with his girlfriend. Here's some little stories about the trip, and I'll update this page regularly while we're under way. Perhaps even some photos when I get the chance (whee!). Pierce is a fellow architecture student, and we're in the same class, and there are moment when we can stand eachother, so the perfect travel partner, I say.
New Haven -> Toledo
Picking up my travel mate Pierce in Perrysburg, near Toldeo, and it was a good solid and fast drive, mostly over interstate 80. I just wanted to get to Pierce as I've done this journey several times already. It wasn't so terribly hot yet... It was a fun drive and only had a few road-idiots to growl at, and of course they had new york plates, so what do you expect
Arrived in Toledo well after 12 hours or so, and in time for dinner at a Japanese bistro in Perrysburg. Spent a few days here with the chipmunks in the back yard. I had never seen a chipmunk before! Or Raccoons... they're so cute.
We visited the Toledo Glass museum, last time I was here it wasn't completed yet, and the Toledo Museum of Art, as well as the artist community Pierce's father was involved in. Toledo isn't such a nasty place when you know the right people
Toledo -> chicago
20 minutes into the drive and we had a blowout of the left front tire on the interstate. It tore of the left side skirt, but nothing really disastrous otherwise. I had fantastic Bridgestone Potenza RE720's on there and they were in great shape, I must have hit a nail or something. Using the jack that has never been used in its life we got it up next to the trucks that were speeding past at 70 mile per hour. Not so pleasant. The tire was entirely torn off so no repair possible. Got on the spare, which was a bit soft, and subsequently spent two hours hunting for a tire place. We found one in a small town and I walked in confident I was at the right place. When the helpful local owner asked for what car it was he responded "Alferomero? What in the loooaaards neame is theat?!" Needless to say that unless I wanted to veer off with a set of radial truck tires, this wasn't the right place after all. After this we could only find Wal-Mart (the 4th largest trading partner of China, thank you), and the best they had were Goodyear American Eagle H2's. We got them put on and I was limping the rest of the day because of kicking the jack too hard to get it in the stubborn jack-slot under the car.
Drove on to Chicago, and have to say these tires are awful. They look ugly compared to the Bridgestones, they're bigger even though the size was the same, so they rub the skirt at certain steering angles something awful, they are side wind sensitive, noisy and ... they look awful!
But, we're on the road again... kind of. In Chicago traffic in the middle of the day they temperature went up very high again (no overheating though) and after walking around in the wonderful city, seeing some great buildings (we're both architects), we got back in the parking garage to find all the coolant lying on the floor on the garage, and an angry Mexican parking attendant. Reasonably uncomfortable situation. So, I threw in some coolant I had in the back, and got the hell out of there. I put on another coolant cap I had of an earlier incident which is higher rated (13 PSI) than the old one (11 PSI) and that might just save us some bottles of coolant.
We stayed in the Holiday Inn at the edge of town, where we found a hotel room where someone had slept in the bed and smoked some cigarettes before us... so we got the room for almost nothing. Nothing beats cheap when you're a student
Chicago -> Sioux City
O'Neil is our first funeral spot, but it's 14 hours away, so we decide to go and visit the IIt campus in chicago before setting off, and staying over somewhere under way. IIT is a special place as it's been designed almost entirely by Mies van der Rohe. It was a truly elevating experience. From there we leave to got to Nebraska. We're taking Highway 20 instead of Interstate 80, because it's a far prettier drive. No interstates on this trip, thank you! We roll through small towns over hills and have glorious views over corn fields and soy crops. The car feels good and is happy with these small windy roads and to do the occasional overtake of a big rig. This is really starting to feel like a proper road trip, and we drive deep into the night listening to an audio book of Bill Bryson's A Short History of Everything and some bluegrass music. We have dinner in a great little town called Galena, which feels like France, with tourists, where they have a tin soldiers store and a store specifically for hot sauce. Seriously. Needless to say we bought a large supply of both, and are having tin soldiers with traditional hot sauce for breakfast, in lieu of the Motel 8 'Superstarter' breakfast, which not uncommonly consists of one old muffin that's only slightly nibbled upon by a family of mice, and coffee that looks like tea and tea that tastes like coffee.
At 2 am we stop in the middle of nowhere and stare at the beautiful night sky, something not visible in metropolitan areas. I try to take some pictures with my Bronica film camera, but I'm sure that's a but of a futile exercise... shutter time 3 minutes... whoohoo.
We got pulled over twice in a row in the middle of the night in the middle of nowhere by state troopers, because I have yellow headlights (for driving in France). Get a warning, and some hassle, but also get a speeding ticket added to that, so today is all about police officers I guess. They're a whole lot nicer than in Connecticut though, where they always seems angry enough to jam their flash light into your eye socket if you forget to send them flowers.
We crash at a motel in Sioux city, exhausted.
Sioux city -> O'Neill, Nebraska
The next day we go towards O'Neil, and we arrive very soon, in time for dinner at the local Inman Volunteer Fire Department fund raising rally for a new roof on the library, and the local retirement's center's annual brass concert. It was such a colture shock for me, and everyone is so friendly, and connected with one another, it feels like a different world.
Nothing alfa-esque to report, except the reaction for someone at dinner asking "Wha kinda ca y'all drivin'?", upon saying "Um... Alfa Romeo?" the reaction was a classic and enthusiastic "Afa.. what?! Wha in the Loooards neame is theat!?" Seems to be the persistent reaction to my mode of transport. I'm not quite sure what the lord's name has to do with it, or what that lord's name is, or which one they are all referring to, but I guess they're hoping their lord knows fancy European cars better than they do, and I'm sure he does. I sure hope so. enough people praying in the Vatican, you might think so...
Tomorrow is the funeral service, and on the 14th, I think, we go on to Blair.
O'Neill, Nebraska
If there was ever a day with two different faces, this one was it.
We got up very early, and drove out into the sand dunes south of O'Neill. We found a good spot on top of one of the hills overlooking the plains, and Pierce buries some of his father's ashes into the ground with his two uncles. It was a beautiful moment, between the large grasses and cacti in the hills. Only some got stuck in my flesh.
In the afternoon we had the funeral service for Pierce's father in the nursing home of his grandmother. There were 20 or so people and someone who's far more talented than Frank Sinatra ever was played some great music and eulogies were read. And so it goes. (that's a Vonnegut quote, you illiterates)
In the evening we went to a Rodeo that was in town, my first, and to my surprise I found it to be a really great event. After a day of reasonable contemplation the lightness of the rodeo really worked well. Added some beer that tastes like mineral water (miller lite), and some cute cowgirls doing weird things on horses, you're setting yourself up for a good night.
It's fantastic to hear the people here speak. Within one day I've heard things like "I herd they's pulled up the praice of corn ten dollahs a bushel" and "He's a real smart-aleck, thet he is!". It was good to meet the local people in the bar and have a chat with them. They're so much more approacheable and conversational than on the east coast. Feels like spain
I'm reading the book my dad gave me, "Grapes of Wrath" by Steinbeck, and it's eeriely appropriate.
Today we drove down to Blair for the second funeral service. This trip really is two funerals and a wedding. We drove down route 275 most of the way and took some detours down to Blair, which is as boring a town as it gets. The road was beautiful however, with the fields lush and green and very light traffic. Pierce had his first 'slam it into 3rd gear to pass' moment on route 51 and he was reasonably excited... not having driven a stick in a while, nor a gtv6. Ah, I'll never convert him
Petrol heads are born, not bred.
Tonight's the second half of the rodeo, so I'm going to go with my new cowboy hat that Pierce gave me, that belonged to his late father, and find me a good cowgirl to do some squaredancing with...
It looks like SamW from this forum is going to send me some used white seal beams for the GTV6 to San Francisco, which is fantastic, so I don't have to keep smiling nice to confused and suspicious police officers every half hour at night. Thank you Sam!
O'Neill continued...
Ok the rodeo for the second time around wasn't as exhilarating as before. I think most of the people were a bit dazed from the heat. So, we decided to check out the strip, the main street through town. On the strip a large amount of custom cars, classics and hot rods were driving up and down. At first I couldn't imagine why on earth that could be fun, the same street up and down for hours, and we saw some cars that had been there 6 hours earlier, which was a bit much... but we took the Alfa and were the only representatives of the continent, with only a small Triumph as an english contender. It was actually fantastic to see all the gorgeous cars, and all the people that had come out to watch them. Like a driving auto show. The whole center of town was blocked and here and there an infuriated person who actually wanted to go somewhere shouted frustrated from their SUV's. It was a barrage of extremely hotrodded and trashed camaro's, corvettes, chopped pickups with insane chrome engines and flames out of pipes, old '60s thunderbirds and Mustangs, some seriousy molested '90s trash, mostly plastic Mustangs, and several cars I've never seen before. Here the Alfa's beautiful engine sound was overthundered by some insane drag racing monsters, but there was a good deal of appreciation for it, and certainly the only one on the strip with yellow headlights...
I also felt good that most of the cars would overheat after half an hour driving up and down, but the alfa didn't. It got hot, yes but no overheating. It was probably also the only car doing 30 miles to the gallon on the strip, because all the fuel stations were out of premium gas.
After a few drives up and down the strip, we returned the car home and walked back to town so I could have a few drinks with a girl I met the day before in a bar, trying to teach me the two-step. She was working there and I was extremely looking forward to meeting her again. When I got there, she was very busy, and it got a bit boring, so we decided to check out the rest of town and come back later. I told her I wanted to see her after closing and she said: "You're really going to hate me, because I really did plan on coming with you tonight, but my husband came with me." Ouch! How's that for a sentence you don't hear too often...
Much later we found ourselves on the closed rodeo grounds with a bunch of cowboys with guitars and a few packs of beer. The girls were singing with their typical country twang and everyone was chilled out and enjoying the night. The girl from the bar showed up as well at some point... with her husband. She sang a few gorgeous songs. Painful moments.
Today we're driving to Rapid city, a 7 hour drive, where we will be avoiding the highways mostly. Still a bit groggy from last night, but it's another astoundingly pretty day and it's sure to be great.
Rapid City
We arrived at the giant house in the forest of the elderly couple that was hosting us for the next two nights and a day, also family of Pierce. Here it turns out, the couple was the event rather than the things we were about to see. The next day we visited Mt Rushmore, the Black Hills, saw elk, wild turkey, deer and buffalo, visited Deadwood, a goldmine, ate fantastic hand made pie, and a 1001 things one can do in this enormous vacation resort city. However we were driven around by a combination of personalities that should never have entered the same room, let alone get married. Both in their 70's the wife is, as Pierce describes it, 2 cards short of a full deck, but a wonderful nice aged lady who just babbles on until you interrupt her... "Oh... boys, haha, it's so nice to have you here, we can't tell you how much we like having you over, there's many things we can do, and talk about, and I can show you my pictures, and haha, there a nice forest around the house, and it's so wonderful of you to be here, haha, yes, very nice, and..." ... you catch my drift. She'll talk the ears off of your head, and will retain an iron smile while doing it. But then there's the husband. He must be the grumpiest man alive. He will explode into a short outburst of rage every 5 minutes for something completely rediculous. The wife will point at an old goldmine and say "oh, that's so nice, over there, that old goldmine, we used to visit that when we were young, it's so nice, if we had time we should..." interrupting husband: "Godd**n it woman! If you want to point something out, do it before we pass!", usually followed by some angry under breath whistling. That was really nerve wracking. "Godd**n it, I told you I don't want any pie!". And then he'd veer off into some extremely complicated, boring and factitious (and usually wrong) explanation of how elk breed, how mailboxes work, or the preposterous dietary habits of his wife. Seriously uncomfortable.
Anyway, so after escaping their generous but tasking hospitality, we went on to Denver.
Denver
The drive to Denver was fantastic. Wyoming is one deserted state! We ran into a town with the population of 1. And I think we saw the guy standing in front of his window, sadly waving at some stray prairie dogs. We got a speeding ticket by a state trooper that had equipment to measure our speed reliably while he was driving towards us. Yeah right! That was a new one. Not a big ticket, but a waste of money nonetheless. We really try to stick to the speedlimits... (really, not kidding you here).
Denver is fantastic. Our first encounter with civilisation after Chicago... but also... I'll tell you something, Denver is the city of women. And they're honest, straightforward and no-fuss. We had a great time at the bar, and although my date didn't work out due to jealous boyfriends (what's with that? Is this my curse?), I made up for it a little later.
Now we'll start out long journey towards Grant's pass.
Salt Lake City
The drive from Denver to Salt Lake City via 80 carried us through the entire breadth of Wyoming and Utah. What a breathtaking journey. I've got some spectacular photographs coming up for you guys, but I can't really say how wonderful this drive was. We made good time, 9 hours or so for 600 miles, and the last bit had some corners in it through the rockies that were wonderful to drive on. Yay for Alfas! Then we got to Salt Lake City... and Salt Lake City is just seriously boring. I've never seen such an institutionalized, sterile city without any life to it, which city center is built around a strange financial/religious hybrid institution (the mormons). All restaurants are from a chain, all hotels are chain hotels, every single building is some crap fake developer papier mache stucco'd on front without any love, inspiration or dedication... So we went and saw the movie Transformers, in a boring movie theater in a boring shopping mall after a bland and boring thai dinner, and it is an seriously bad film, so both Pierce and I are hating SLC. Sorry for whoever lives here.... We leave as soon as possible tomorrow morning for uh... af far as we get towards Grant's pass.
Elko...
I guess we didn't get very far. We must have upset the Mormon spirit in SLC, for 150 miles out of the city, really in the dead middle of nowhere, the tach dropped to 0 and the engine stopped responding. We rolled to a stop, and looked around us. Nothing. Nothing for miles in either direction, not a sign, not a building, just hills and desert and salt. The entirety of your existence reduced to a geographical location. It was about 1pm, the hottest part of the day, and I spent half an hour figuring out what went wrong. Pretty soon I discovered: no spark. Pierce sat in the car reading, exhibiting his total and complete lack of interest and understanding for all things mechanical. It was hot, but lo and behold... we had phone coverage! What kind of desert-breakdown is that?! We thought we were pretty lucky. Little did we know that this was to be our black karma day where each time your hope rises, it gets killed with swift and effective precision by some horrible monster. In this case the horrible monster was that, yes, AAA (roadside member services, for you europeans) was sending out a tow truck to come and get us within 20 minutes (ya right). 3 hours later and many calls to triple A it turned out they sent two trucks by accident but both in the wrong direction. Finally they show up exactly at the same time. Dehydrated... but we had our fun there. Ok, so the tow trucks that arrived were fighting over who got to have the tow... the nicer one of the two gave in, obviously the one who most deserved it, and mr Yokel-O-Hare from Wendover dragged us over to Elko, Nevada, 100 miles further only to arrive there when every garage was just closing.
After so many hours in the desert and laughing about all we could, we were getting a bit morbid about the whole thing. Only 20 hours to go to get to the wedding in Grant's pass, Oregon, and here we are in a town where all garages shut at 5, the local Napa doesn't even carry a test light and hungry and dehydrated from the desert. So, the local chinese restaurant served as our headquarters for the next few hours, where we phoned everything we could think of... car rental companies (all 3 of them out of cars), airports, ticket agencies, airlines ($1200 to Medford, Oregon, way too expensive), no train, and thus... bow down to the fantastic... Greyhound...
Elko -> Reno -> Grant's Pass
We must have sat there for at least 5 hours. It finally came to pick us up at 11pm at an abandoned and dark gas station where we had just witnessed some random shady people entering and leaving some underground structure behind some rusty cars. Crystal Meth Lab anyone? The bugs were eating us alive but it was sheer luxury compared to what followed... being jammed between three humongously fat and belching drunk people, the stench of the toilet, the constant vibration and the sardine-can-like personal space. At Reno we exploded. We got off. No more!
We ran out of the greyhound station, and jumped into a cab... Reno airport! We got there and rented the only car that was left. Seriously, I kid you not. A brand new Ford Edge from Budget rental. I had never heard of such a car, and little did we know it's the biggest piece of automotive plastic junk ever to roll of any assembly line, but we took it, jumped into it, together with the free GPS we got, which also was the most useless annoying objectionable waste of material resources one could invent, and drove north... 4am, 5am, 6am... all through the night, and finally, we got to where we wanted. Not thanks to the gps, obviously. We were dead. Exhausted. We were given accomodation with Brent's (the groom) sister. The beds that belonged to the 8 and 10 year old. With religious slogans above each. Um. Yes. sure. Thank you! We were an hour early... an hour of shower and not being filthy and rushing, it was actually wonderful.
Ford Edge?!
Just a little bit on that Ford Edge... so this is a sporty MPV... or SUV. It fits 4 people resonably comfortable, but not much better than, say an Alfa Romeo 159. It sits so high on its wheels that you can't take any corner on the highway at posted speed as you'll roll over. Its gas pedal is so light that its impossible to maintain the same speed without cramping up your foot, but it doesn't matter anyway because the non-lockup automatic gearbox will kinda float into space anyway. You're always in a state of half-clutch. The cruise control decides its a good idea to go two gears to go from 60 to 65 mile per hour, and the engine is so weak to haul this monstrosity forward that it can't do the slightest inclination without falling out of overdrive. If you open the rear windows on the interstate, it sounds like a military chopper is landing in the backseat and your ears are about to start shooting back. You can see out the windshield but out the sides I've overlooked a car twice already and I wasn't even being nonchalant. It's got a dead corner! What normal car has dead corners! and... seriously... 17.5 miles to the gallon. That's almost half of my 25 year old alfa V6! Words fail.
Anyway. While the gps was sending us off the interstate on exits only to immediately enter it again during traffic jams, sending the wrath of truckers on their radio down on us, we got back to SF today. And that's where I am now. Without alfa.
Oregon, The wedding, and San Francisco,
My friends Brent and Rose were going to get married in Grant's Pass Oregon, one of the milestones on our trip. Brent is a classmate of mine, and Rose is one year above us. They're unique people, with a unique mind, and thus the wedding was going to be unique as well. It didn't resemble a traditional wedding in any sense, save for Rose's white dress perhaps. The day before we were all spooned into jet boats to go over the local river to Devil's Pass, an exhilarating experience, and after the non-stop 40 hour greyhound-rentalcar trip we had to go through I only fell asleep twice in the Jet boat. Seriously. That's like falling asleep on a pushbike. Who's tired? Not me!
The wedding day was without any ceremonies. Brent and rose read a bit of what they each wrote to one another, in an intimate field with beautiful trees, and there was some food and drinks. The night was perfect, and never ended, with the stars on everyone's retinas before going to sleep.
Foggy San Francisco was next, and drove down in the Edge. It was great to see my friends Tommy and Annika again, and see Tommy's workplace, Factor games, which has just released the game 'Lair' for the Pplaystation, which I got to play for a bit and will be shot by thirteen nerds if I talk about it. I saw the redwood forests, the lonely lighthouse, the city and its surroundings, and T+A led me around a few restaurants and other places. We went checking out a new car for Tommy who wants to buy
a Posrche boxter (boring)
, and I made him look at a
Jaguar XK
, which is less boring. He doesn't want a
Lotus Elise
because you can't get them in automatic. Lazy people
. But we sat in one, and for 6 foot tall people, that'd make a nice Mr Bean episode. I guess SF can be a bit harrowing for manual boxes. Too bad there arn't any other exciting convertibles for sale in the states. It's either american junk, japanese boredom or european posh.
Said goodbyes to Tommy and Aniika, I'll miss you guys, and left for Reno, dumped the rental (good riddance), got into a greyhound, which wasn't so bad this time around (sit at a emergency escape! more legroom), and I had pleasant company. Crashed in hotel, picked up alfa the next day and after 3 hours of fixing what the garage had broken, went off for Yellowstone. Oh that garage seriously messed up teh Alfa! It was like driving a lawn mower....
ao, via Twin Falls and Idaho Falls I end up in West Yellowstone. The ntrance to the Yellowstone park. The lady at the ticket booth expressly warns me against sleeping in the car as the smell attracts bears. They like flipping over cars that they think contain food. Slept in the car in some backwood forest anyway, as I'm running out of money a bit. You have to live dangerously. It was dark and I heard noises... But I lived
Car can use a hose down though with all the mud all over the place and bear poo, I bet.
Yellowstone is amazing...

Yellowstone & Casper, WY
There's no big news to be hand in the fact that I'm stranded again, this time in Casper, Wyoming. The technical details are not so important, suffice to say it's largely due to a bad repair job at Elko, I knew it was running bad, and I'm back to where I started with it. Lots of people have come out of the dark forest and extended one or several hundreds of helping hands, and their assitance makes it all the more bearable and less frustrating.
I have realised, though, that this is what I wanted. Not the trouble of course, but the essence of the journey lay in me traversing the states first with a friend, and then alone. I've been surrounded by so many good friends over the last few years, I've lost some of my capacity of being alone for a longer period of time, eventhough I see the unique qualities it can offer. The last week, I was never really alone, in Yellowstone I hooked up with a party of three that drove in the same direction, going down to casper a set of swiss exchange students rode with me in tandem, SF was with my friend, and even on the greyhound bus I had company of a great and conversative teenage girl, coming back from the trip of a lifetime. It's been, in other words, a trip that was all about people. Although the USA is a beautiful place in larger perspective, its landscape does not change as dramatically as that of Europe, which I'm used to, nor is it as alien as that of Australia, where I lived for about a year and a half. America becomes interesting when you meet its people. That said, I guess I just have to get used to the idea of being alone a little more. I was dashing off to hang out in Denver with Jim, from the alfa boards, but perhaps a few days here, in Capser, another place like desolate Elko, will do me good. (edit: little did I know...)
Casper, I have found out today, is the birthplace and old stomping grounds of Dick Cheney. So, when walking from where the car's decided to throw a fit again to the hotel with my little suitcase dragging behind me, I found myself crossing Dick Cheney athletic field, past Dick Cheney federal building, onto Cheney square, down to Cheney boulevard.
Perhaps, on second thought, there ARE better places to be stranded.
I've seen many things on this trip, too much to sum up. The endless fields rolling past, the joy and laughter of young ones at the rodeo (I hate kids), exciting girls throwing promising looks, a great wedding with friends, sincere reflective moments at funerals, hot blazing days with heat waves distorting your vision and mind, pitch black chilly nights with stars falling everywhere, unbelievable natural sights and events, Yellowstone really is an utterly amazing place, every 100 meters theres something else you have never even remotely seen before. Besides the trouble, it's all been worth it. It would have been so much less if I hadn't started this trip with my dear dear old friend, the Alfa. As much as I deny the importance of materialistic things, much more than a laptop, some books and cd's I do not posses, I cannot say anything else than that this car has been my friend for as long as I can remember. Perhaps it is like the girlfriend that everyone tells you is bad for you and you know doesn't love you back, but I'm not through loving it. For all its faults, and its tremendous cost, I'm happy the money goes into a friend, one that puts a smile on my face every time I walk away from it and glance back at it. Even after so long, I can't help looking at it.
I do have to say that it is a special event when you mention to the cute receptionist girl that it'll be your birthday the following day, and sit out on the porch with her for a while, she'll come into your room early in the morning unnanounced, undresses, and lies in bed with you. You know, not everything is boring in Casper.
The thing that's cheezy in Casper is the soup. Scroll down to post 87 on page 6 on this board to see the photo and read of my well articulated review of... cheese soup. CHEESE SOUP!
Casper -> Denver
Yes, Finally out of this place. Just a matter of plugging in the other silver box, and off I went. I jumped in the car, and left skidmarks! Driving down to Denver was just a couple of hours, and it was such an amazing relief to drive into the city and see a store named 'Zeitgeist'. I'm back in civilisation! (yes spelled with an S, yous yanks)
I drove down to Jimmy's place (jack_linguini here on the board), as he offered me a place to stay and a garage to have a quick look at the car. We hobnobbed over the various alfas in his driveway and his two great friends Rick and Michelle came over and it was all very pleasant and relaxing, I was in need of that after the Casper Affair.
The next day Jimmy and I went over to Apple motors, and there Doug checked out the engine for me.
Apple motors by the way was great, they had some really nice and rare fiats and a maserati merak SS sitting there like it was nothing. They were really friendly and welcoming, something I don't find too often nowadays.
Then we went to the national history museum with Rick and Michelle, and saw remains of the titanic that a couple of fellas in scuba gear managed to drag up. It was an interesting exhibit, although overpriced and badly designed, and I was entertained.
It's time to go again, this time a long drive to St. Louis, Missouri, through Kansas state, known for its strict police..
Denver -> St. Louis
Ah, a nice 12 hour drive that took me 11. Hey I didn't take the Alfa for nothing. Of course I was pulled over by a state trooper, because heavens forbid you can drive more than 100 miles in this country without your chubby gun-toting moustache asking you for your licence and registration. No, it wasn't for speeding, and no, it wasn't for having yellow headlights! Really! It was for not using my indicator when changing lanes. I kid you not, and actually, I'm fairly sure that I did use it, as I almost never fail to do just that. Using an indicator is a pleasure of life, the wholesome tick-tocking pets the soul as it meanders through your consciousness. In any case, turns out it was probably an excuse to pull over the weird guy in the weird car from the weird side of the planet (which connecticut is as far as most state troopers of states west of it are concerned) to let a giant german shepard do some nose exercises concerning illegal narcotics. Needless to say in the USA soon bubble gum will most likely go on the list of most-wanted drugs, so the dog decided it found something... thus mr State Trooper in his black triple layered outfit decided to take apart my car at 1 in the afternoon in the desert of kansas. Whilst dripping sweat on the upholstery of the car while trying to unwedge the rear seat bench he soon came to the conclusion that this weirdo standing over there on the shoulder happily staring at uncomming traffic might actually not be shooting up crack through his bodily orifices on a daily basis anyway, and he let me go, with a certain amount of apologies. He even repacked all my gear! So, off we went again, and thank goodness for airconditioning, and thanks to my grandmother for giving me the repair of said system as a birthday present two years ago. I'd have died a slow mental death otherwise and undoubtedly have become a happy Dunkin' Donuts employee soon thereafter.
A nice trip on a boring interstate (70) later, I arrived at Troy, Missouri, where two friends-of a friend gave me shelter, heinekens and apples. Until the smaller hours of the night banjo-ing away in the garden and early up the next day to visit St Louis and then drive on to wherever the road takes me.
St. Louis
I only knew three things about St Louis before driving down 70, past the Arch and finding a spot for the Alfa in some nearby garage: It's one of the most crime ridden cities in the US, it's got terrible weather and it's got the Arch. So, no need for me to hang around much, ha! But, as an architect, I need to check out Eero Saarinen's Arch. And it was worth it. Touching the smooth steel of this giant vertical slip 'n' slide puts you in touch with the enormous effort necessary to make it and its pure essence of design. Although I place my doubts at some of the exhibits in the Museum of Western Expansion directly below it from a humanitarian perspective, the erection of this monument is truly a memorable moment in itself, rather than what it is supposed to memorize (I personally think replacing indian hunting grounds with strip malls is not so much an honourable endeavour).
So... pictures about that thing soon and while the extreme humidity was starting to press down on my brain and soaking my undergarments, jumped back in the car and drove east east east!
St Louis -> Pittsburg
I just want to go home now. I've experienced many places, befriended many people and felt the vibe of all the states I visited resonate through myself, a true life experience, but now it is time to just touch my own front door before moving on. And I subletted my place so it's not even my home! The drone of the engine, the wind in your hair, thousands white dashes painted on the asphalt flash by in a steady blur. Pocahontas, Vandalia, St Elmo, Brazil, Eminence, Indianapolis, Spicedale... town names that conjure up fantastic images to dream away on while you can feel the road slip past through the steering wheel. These last two days homewards are for rethinking the times spent collecting the memories created. New plans and ideas have started to weave its way into my existence and I look forward to being able to draw again and make the things that I love making.
Around Pittsburg it's getting dark and I decide to travel through the city and take a small highway (28) upward to interstate 80 and continue from there on the next day. Pittsburg is THE place to be in an Alfa... small windy roads, crazy steep hills and tiny houses stacked against eachother on chicane like intersections. It reflects back on the town and the people, it seems like a great place to live. Of course, how could be otherwise, Pittsburg isn't done with me either as mr State Trooper in front of me has put me on his to-do list for that evening. I tap my brights, yes yes yellow headlights, but to no avail, he slows to a crawl, I must pass, the police lights go on, and off the road I go. I have to say that the ticket price is only marginal compared to the embarrassement of sitting there on the side of the road for everyone to gander at. This Police officer is decidedly hardier than all the other ones and he tells me he can't let me continue (pardon?). He lets me sit there for at least 20 minutes while he has a long conversation with his grandmother in Kansas, or something. Eventually he lets me go, and points me to 28, albeit the wrong direction (thanks man).
Eventually I reach it, and for everyone who will go that direction, 28 is probably the best driving road I've experienced so far. Middle of the night, noone in sight, clear signage and smooth asfalt on a tight single lane mountainous road... the cows have heard the Alfa roar that night... Mieuw!
DuBois, PA? Anyone?
But then it gets really late, and it starts to become time to think about sleep and all that nonsense, so you find a motel... full... next... also full... so you truck around through oh let's say something as random as Dubois, Pennsylvania, and you see a dive bar called the Hitching Post that says 'rooms available' on it. For a measely 35 dollars you sign a sloppy piece of paper between the soggy remains of chicken wings and ketchup stains on the bar, and get directed 'out back'. Here two rows of cattle barn like structures stare at eachother with a bunch of rusty old cars in between. Parking the car out in between them, the double dutch doors of two neighboring 'rooms' offer a view of what seems like semi permanent tattooed wrinkly oldtimers smoking and eyeing me like the spanish inquisition would a stray member of the gay parade... The room is clean-ish, and there looks to be a nice landing like second floo- oh no... it's eye trickery, there's a mirror larger than the bed itself above the bed on the ceiling. Ok. Sure. I guess I am not fulfilling the potential of this here sex paradise this evening... Carefully I peel off the bed cover I try not to think too much about the noises outside before I fall asleep... the shower next morning, I think, was not just necessary from a common hygiene perspective I fear.
Anyways, onwards! Start the engine and get out of this place!
DuBois -> Milford, CT
The home stretch... A little bit of route 80, but trying to take alternative routes on highways and roads I havn't seen before. I get a late start.
Somewhere around State College, PA on 80 I spot a nice white
Alfa Spider
going the same way and am surprised. The only other alfa's I've seen on my trip were two parked spiders in San Francisco. The spider is preceded by a blue
'70s GTV
with white racing stripes. I slow down from my 100 or so and wave at them. We drive in formation for twenty miles or so and it's fun to be in the company of unknown fellow alfisti. At some point the spider points to an exit and we all leave, stopping at a roadside diner. Turns out GT with his GTV and a very tanned Dan with his spider were on their way from the Alfa convention in Ohio back to their home state New York. They show me some photographs from the convention and give me a great lunch. And here's them thinking they made a long trip coming from Ohio...
We have a good time but time is starting to nibble on me, and we part ways on the parking lot, I tend to drive a bit faster than is pleasant in the spider.
I take the back roads of New York and Connecticut, and discover some areas that I was unaware of. Connecticut in Summer can be a really beautiful place when you leave the interstate indeed.
Exhausted I arrive in Milford where a dear friend lets me stay in her little house at the beach. The silence and peaceful surroundings do me good for a change and I deliver the car to Alfa Import center in Queens for the steering rack.
The next day my friend Dana and I leave for Montreal, the last stop on my road trip, as I've been wanting to visit Canada for quite some time. Not in the Alfa, as it's not ready in time, but we wern't planning on driving a lot once in Montreal.
Milford -> Montreal -> Milford
The last episode of my travels.
I traveled with my good friend Dana, and our destination was Montreal. I just needed to have been in Canada for at least a little bit.
Our journey up was uneventful but beautiful. We spent most time going up and down interstates to get to this one chinese restaurant in Whatchamacallit. We took mostly 87 north, to take more scenic highways on our way south. We just REALLY wanted to get out of the US.
And I'll tell you, Montreal is a different world. It isn't France quite yet, but close enough. The old city center is magnificent, not too touristey, and there's some real comfort and warmth to be had here in the small streets, little restaurants and downtown. We spent about four days here, left the car where it was for the entire stay, and stayed in a little hotel called "Hotel de Paris". How could it have been otherwise? Canada is such a different place, everyone was extremely friendly, we've had random chats with random people on the streets, stroek up conversations with waiters and other whacko people, and enjoyed the oceanside walks, parks and citylife.
We didn't want to but we had to go back. Back into the car, and drove down. we stopped over in St Jean sur Richelieu, just because it sounded fancy, and it wasn't so bad, but this was america again, although not officially, but everyone spoke French still. We drove down a small highway, 70, most of the way, and it's such a beautiful drive. I recommend everyone in this part of the country to do that road up to Montreal at least once. It's only a couple of hours, and worlds apart.
Ending back in Milford, at the beach house, we had a glass of wine at the oceanside before we passed out. A journey well traveled.
Last words
It's impossible for me to describe this journey, although I've obviously tried. Every single minute was worth it, even when stranded in the desert, and every mile was a pleasure to travel in the Alfa. I couldn't have done it without her. I've traveled in Australia for weeks, in europe for months, and now America, and this is yet a wholly new experience. As I said before, America is about its people and the landscape. Eventually all towns and cities look and feel alike, but it's the people and everything in between that make it different. Thank you people of America for your intelligence, kindness and hospitality. Thank you state highway patrol for being mostly benign idiots rather than malicious pain in the behinds. Thank you people of this forum, especially Jack Linguini, SamW and Greg Gordon, Thank you, Giuseppe of Alfa Import Center in Queens for all your great advice. Thank you receptionist girl in Casper, WY, starlight girl in Grants pass and married girl in O'Neill, Nebraska. Thank you Pierce, for being such an amzingly good travel companion, for the time we spent in silence, for the times we spent discussing, for the time we spent. Period. For being my friend.
Thank you Alfa Romeo, for making such a wonderful device to enjoy life with. Thank you America.
The westward journey: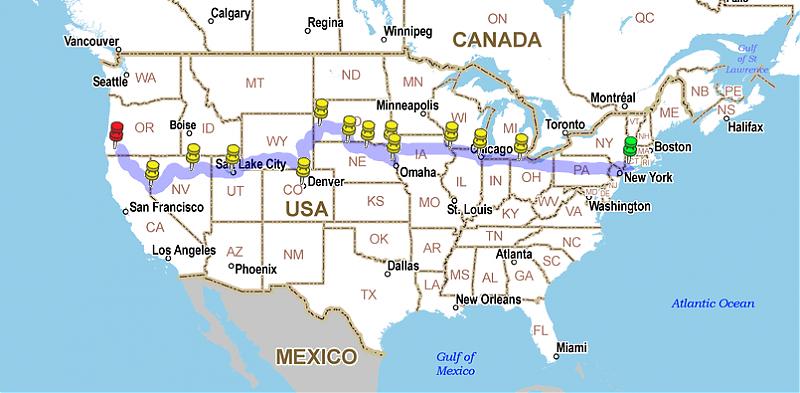 The eastward journey: