Discussion Starter
•
#1
•
Hi all, first time caller, long time listener, kind of… I've been reading the AlfaBB for a few of months (great resource and community!), deciding what Spider flavor best suited my wants and budget. I was shopping for a straight, rust-free S2 with sorted Spica in the Midwest within my limited budget (that's not gonna happen) when I saw a CL add for a low mileage '88 Quadrifoglio just one state over in Indiana. I called right away and the seller told me it was his late father's car, bought new, always garaged, never driven in winter, mileage around 38K, currently at a shop where he had planned to get it running again after sitting for a few years, and sorry, no photos. I next talked to the shop owner, he said it just needed a new tank and in-tank pump and then would probably be road ready. It was a little dirty, but he didn't see any damage or scratches. Wow, at $2,200, I couldn't get my deposit to the Post Office fast enough!
Next, I carefully researched weather patterns to plan the ideal weekend to trailer it back from IN to MI. We scheduled and cancelled a few times due to threatening conditions. After 6 weeks, we decided that Jan 8th looked about as good as it gets for Midwest winter. I borrowed an open trailer from a buddy and conned him into coming along with talk of interesting old European sports cars stored at this shop. We got an early start and headed West under clear skies and dry roads… until we neared Lake Michigan. The lake effect snow started slowly at first, then came down thick and heavy. Cars and trucks were off the road everywhere. The FWD Flex pulling an open trailer without brakes was not the right rig for these conditions. We slowly made our way to Mishawaka, the center of the storm. Headline from WDNU.com the next day:
Record snowfall shuts down South Bend and Mishawaka Across Michiana
By Saturday night, snow totals at South Bend Regional Airport measured 38.6 inches
Crawling through town, front tire grip was at its limit to keep the empty rig moving. We finally made it to the shop's street to find it was completely unplowed. Forced to abandon the rig with flashers on, we were shuttled the remaining two blocks in a 4WD Jeep Cherokee. The "shop" was in the city's old Police horse stable buildings, a vast space in connected 1800s brick buildings, dimly lit through torn visqueen covering broken windows and a few futile fluorescent fixtures, no heat or running water. There was indeed a huge assortment of mostly European cars in various states of neglect that looked like they moved in when the horses left – 911SC, 911T, 911Ss, bugeye and Mk1Sprites, TR-4, MGA, MGBs, Avanti, Lotus Elan, Beetle, too many Mercedes to count, a cannibalized S3 Veloce and three Quads. Apparently, customer projects patiently waiting for funds or initiative.
We expected to find the Spider at the front of the shop, nicely cleaned up and ready to go, not so. It was hidden behind several cars and parts, with flat tires and covered in a thick layer of yuk. A quick inspection crushed my fantasy of a perfectly preserved museum piece carefully stored away. It wasn't bad, but it's clear that it was "in the way" during storage; many surface scratches, a few bumps, small fender dent behind the rh headlight. One disappointment was that the rare Quadrifoglio fender badges were missing! I'm sure there will be plenty to do once I get into it, but all in all, a very solid, no rust, complete car that does indeed look like an occasional warm weather driver. The actual mileage wasn't the advertised 38K, but just 27K - we'll see if the odo works, but the Carfax supports the low mileage. Oh, and it was actually an '87, not '88 (probably best from a seat belt standpoint). A real barn, err, stable find!
Once over my delusion of perfection, we faced the challenge of how to get this jewel out of the shop, on the trailer and through a record setting snowstorm. One idea was to use the Jeep to drag the car through the unplowed street to the now buried trailer out on the main road. The old Jeep struggled with just one passenger, so not much hope in that plan. Ignoring that reality, we started unburying the car, airing tires, moving cars, and shoveling when a city plow truck miraculously appeared. This guy, bless his heart, agreed to plow the road (not on his "plow list") from the shop out to the trailer. Right after he started working, the skies cleared, the sunshine began to warm our stinging appendages and I'm sure a choir of angels sang Ahhhh. That didn't last long; before he was done the snow was coming down heavier than before.
Once we got the rig to the shop door, we realized that the hardtop that fit in the owner's minivan, would not fit in the back of the Flex. The only option was to install it to the Spider, but I didn't want to lower and crack the 20 F soft-top. I slowly, gently lowered the top, trying to warm the rear window with my hands, and managed to get it down far enough to rest the hardtop on top, only fastening the clamps at the windshield – hope it stays on! We cut a piece of cardboard to cover the driver's side inop power window opening and away we flew… or crawled.
Like in roadracing, it's all about momentum. The tires could barely find enough traction to creep us forward. I won't say I violated any traffic laws, but stopping for lights was not an option. I really expected to join the many casualties we passed while navigating through the storm, but the Alfa gods must have been pleased and we made it through. The trip home was long and slow; I couldn't believe that I picked the worst day possible to make this trip. Once past the worst of it, we stopped at a turnpike service plaza for a quick lunch. My thoughtful friend had brought along a couple of sandwiches and a celebratory bottle of Italian Nebiollo of which we toasted just a few ounces to the snow encrusted Black Bella rescued from the island of misfit cars.
The snows just starting:
The smallest building: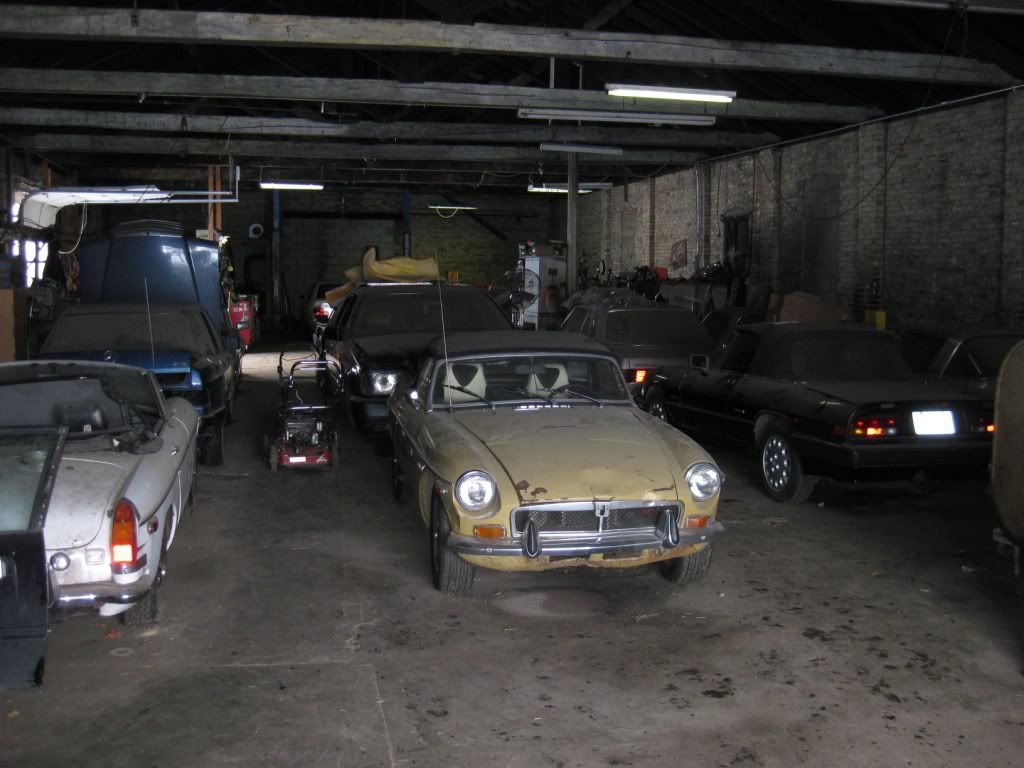 Dirty Quad: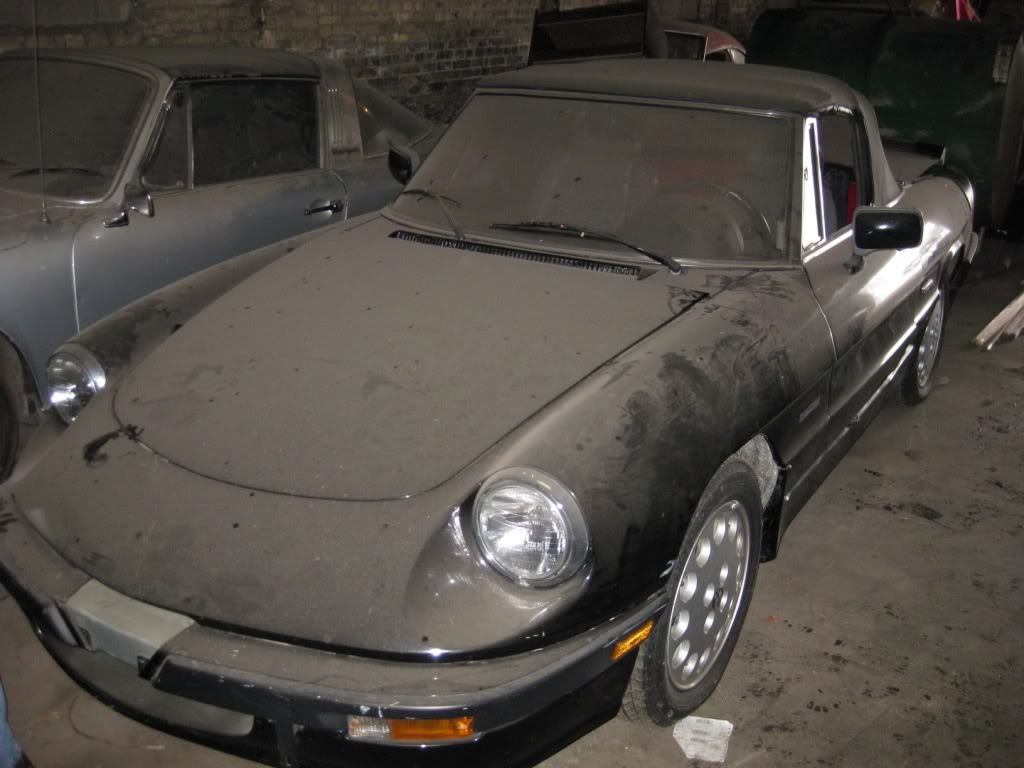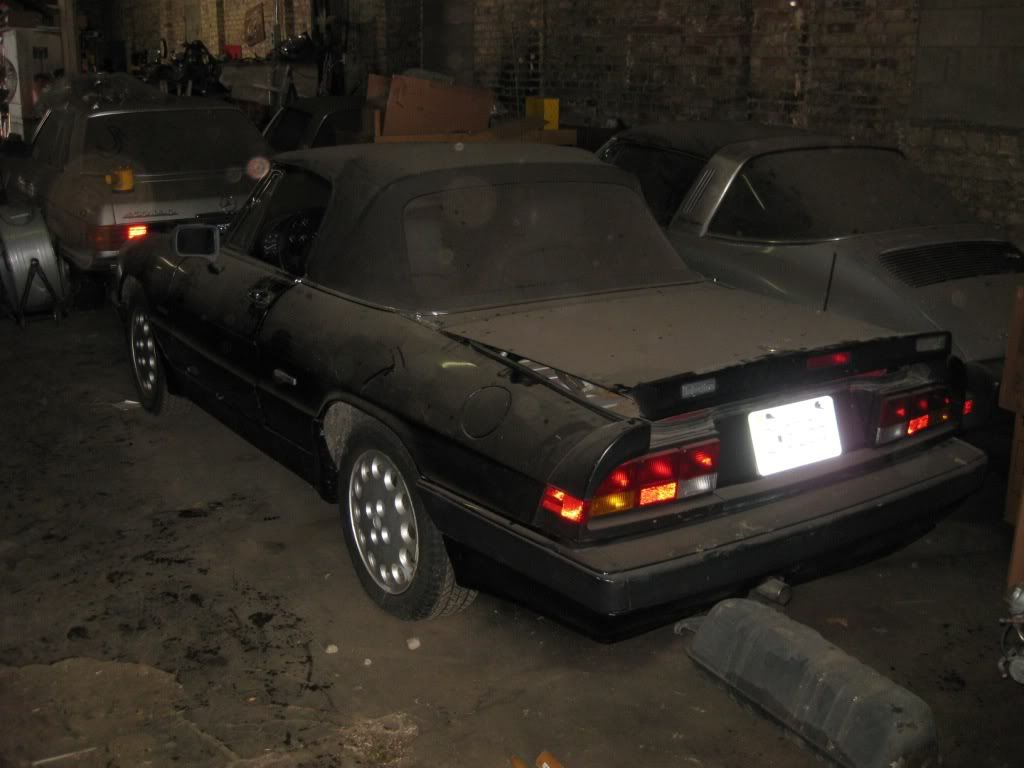 On the road:
Gas stop: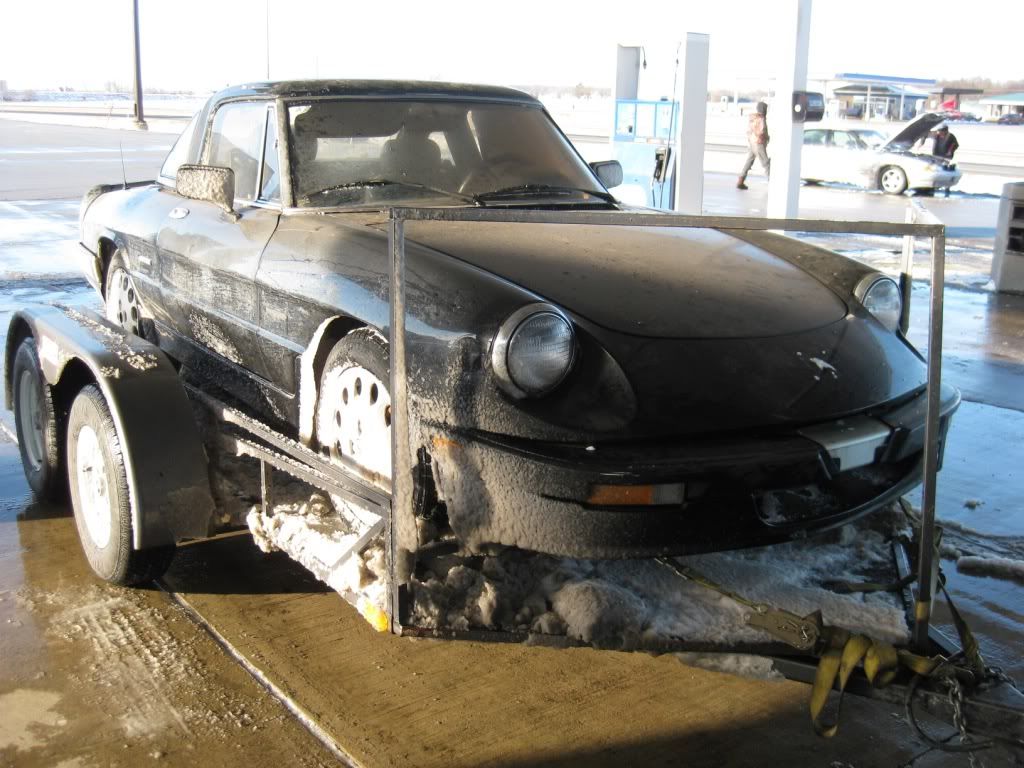 Safe at home after a warm sponge bath: