Discussion Starter
·
#1
·
Hello All,
I'm Nick. Living in Los Angeles CA. Recently bought this Alfa Spider Veloce, '83.
I was working on a Fiat spider 124 that my uncle, who moved to Paris 20 years ago, had given me after it sat in his in laws garage in LA since he had moved out there. It needed quite a bit of work to get it road ready again, but when i finally did and took it to work for the first time, after a few test drives around my neighborhood, my landlord happened to be at the building I work at and bought it on the spot. I immediately hopped onto Craigsbook Marketface and found this spider which i was able to negotiate the price $1000 less than I sold the fiat for... quite a bit of an upgrade, but we're still talking sub $5,000 cars here lol.
Anyway, I took the alfa to Vittorio at Alfa Italia in Burbank and he gave it a look over and test drive before I bought it.
It is in pretty worn condition, but the frame is good and the engine strong. I knew it had a lot of work to be done, but I bought to car to continue to work on something, I wasn't looking for a finished car to start with!
Finally onto the car, at first glance she's real pretty.. imo 😂
But upon closer inspection i've got a LONG list of work to do, and quite a number of decisions to make.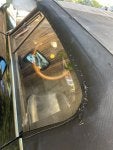 SO.
The duck tail rubber is cracking, PO painted it over which is now cracking too which really makes it all the more noticeable! I've been looking at the zender spoilers, I think that is the direction i'm going to go. Though my car is '83 S3 and the zender says it fits '84+ S3 models... anyone have any ideas about if it'll fit an 83? were there any major changes in the spoiler from 83-84?
onto the soft top... well what isn't wrong with it, thankfully it still goes up and down relatively easy and the latches keep it closed the very few times I have driven it with top up.. It's old, stitching is failing, the plastic rear window is not a window anymore, you can't see anything through it. The frame has broken welds and weird replacement hardware in places it must have previously failed, and the drivers side over the window was clearly ripped and VERY poorly sewn back together. Almost comically bad sewing. I'm work with metal and am confident with light welding jobs.. So I'm pretty torn about wether to try and fix the frame myself and have someone put on a new soft top, or if i should put that money and time into finding or getting a custom soft top from smoothline- Though as hard as I try I cannot find any good pictures besides the weird poor quality ones on their website that really don't give you a clue what you're about to spend ~$2,000 on... possibly repair and sell the soft top frame or just hold it aside to have it redone at a later date..? WWJD?
Then theres the interior, seats are actually in pretty good shape, drivers left shoulder is scratched from failure in the hard top- one arm hangs down loose and scratches the seat it you don't hold it up and out of the way as the top comes down. I want to put some more comfortable bucket style seats in, but haven't found a small enough seat that would look good in the car that also isn't in the thousands per seat.. anyone found a good seat for theirs?
Dash is cracked, but the dash mat makes me forget about that a lot. The console is in decent shape, but it has some movement, i've found a few holes where there should be hardware, i'll take a look at it closer when im further along with everything else.
Carpets are a bit grubby, but fine, I do think about one day changing them out, but that's for another day.
Paint is a rattle can job across the board. Most of the body panels are fine, they for some reason did the wheels which I actually quite liked the look of, but it was done so poorly it's bubbling and flaking off in places. The bumpers were painted too which has mostly adhered but big bubbles in one spot and another where the bubble has began chipping off. I like the black look, I think i'll try sanding and polishing whats still good and see where to go from there. I don't mind the idea of stripping, sanding and painting it one day... Wouldn't mind an old school livery style paint job haha, I kinda want to put a roll cage in one day and do some track days.
Apparently after the inspection front suspension looks good, rear is probably still original, and completely shot.
Any good leads on lists/kits/suppliers for rear suspension replacements/upgrades? I've began looking but always find myself a bit overwhelmed as theres obviously a lot of options and ways to go and i'm not quite at the point ready to shop where I find it's easier to begin to narrow things down.
Thankfully I have time to think as the transmission hates itself, and I kinda hate it too. lol.
It grinds 1st to 2nd almost every time unless I drive like a half dead grandma which (i feel) kinda defeats the point of the spider. I'm planning on having Vittorio take it out and probably fully rebuild everything, I want it to be as strong as possible. From there i'll be moving onto suspension, I feel like I can probably tackle it with a couple of my buddies.
Then the top needs addressing unless anything arises in the engine bay (unfortunately those pictures I can't seem to upload no matter how i compress or change the file type, i'll probably just post those directly from my phone soon) but thankfully the engine has been great. I put about 170 miles on it the day after I bought it as my daily got rear ended and the new to me alfa turned into the daily. Since then i've put another 300-400 or so miles on it without any hiccups - so far haha. I'm sure something will happen eventually, it always does.
Since then i've changed the oil, and added the drivers side headlight chrome that was missing when I got it and done a simple restoration (sand, neutralize, clean, repaint) of the spare tire tub in the trunk as it had some pretty crazy flash rust- i'm guessing from battery acid getting in there as the tray had tons of crazy corrosion (that we cleaned up) on it too.
I've been meaning to flush the radiator, change spark plugs, and brake pads/take a look at the rotors to see where they are at and just do a general refresh of the fluids/engine bay...
.. So that's all for now, feels like i've written my life story, yet barely even scraped the surface of where this car is at.
Not all that exciting compared to many, but I love driving this car and am enjoying the process of getting it into better shape!