Discussion Starter
•
#1
•
Greetings. I've mostly been lurking for a couple of months, but can now introduce my
new to me
Berlina 2000. It's my first Alfa... ever - picked up two days ago from a well known board member in L.A. (And thank you Andrew for the referral). I agreed to purchase it based only on the seller's description and emailed photos. A deposit was sent shortly thereafter. I've met the seller several times in the past and was confident that he was ethical and was describing the car correctly. I was right. :thumbup: A full service was completed prior to me picking it up, which was a big piece of mind.
My first drive in an Alfa was on the way back home to San Diego County with my new treasure.
I enjoy a number of vintage marquees - Porsche, Mercedes, BMW, Datsun (uh-oh, don't bring out the pitchforks!), and others. However, after viewing Manuel's "Never Enough Alfa" video on Petrolicious (at least 50 times), I was inspired. Had to have one and experience it for myself. Add to that the wheel to wheel vintage racing I've experienced against the Rimicci brothers and a few other Alfa racers, only helped to solidify the urge to scratch the itch. (I race a TransAm style Datsun 510 - or take it out for Sunday drives depending on your interpretation of my technique).
The Berlina purred like a kitten all the way home and ran at a perfect 175 degrees. Stopped well when the center pedal was pushed. And rode well and relatively rattle-free. I'm not sure of it's history, but it's straight and appears to be rust-free (just a touch around the window surrounds). The suspension has already been done, with the exception of the old tranny bushing which I need to replace.
It still has many needs however. The first thing I will do is get the exhaust system taken care of, as it's quite worn. A noxious aroma enters the cabin when cruising with the windows down. It was getting pretty bad on my trip home, so I rolled down all the windows in an attempt to help air it out. Only the next day on my way to work with the windows up did I realize the cabin air remained breathable. Wish I'd made the long journey home with them up - as did the group of brain cells that did not survive the trip.
The car was resprayed 3-4 years ago in the original color. Unfortunately, corners were cut and it ended up being a waste of money for the P.O. in my opinion, as it needs to be redone already. "Buick Gold" has not enchanted me with it's charms yet, so a sand blast and color change may occur. Have not yet decided. The internal mental battle between color originality and color preference has begun. We'll see.
The interior is original, but well worn. The dash, of course, is completely shot. Trying to figure out how to deal with that without dropping a sack of gold at Just Dashes has me up early in the mornings pondering and researching.
My plan is to drive it for a few months. After I get more comfortable with the car and start developing a list of it's needs, I will then decide the direction to take. Although, I will address some simple issues in the interim. I suspect a complete resto with perhaps some performance additions are in it's future, but time will tell.
In the meantime, I'd like to hear what folks have to say about the exhaust system. Should I just take it to a muffler shop and have them take care of it (if the price is reasonable), or go with an Alfaholics performance SS (or other) system that was pre-designed for the car? A good muffler/exhaust shop is right next door to my business, so that makes it convenient. They are also known for very good work and high performance systems. Thoughts?
In the meantime, here's my lovely little ugly duckling: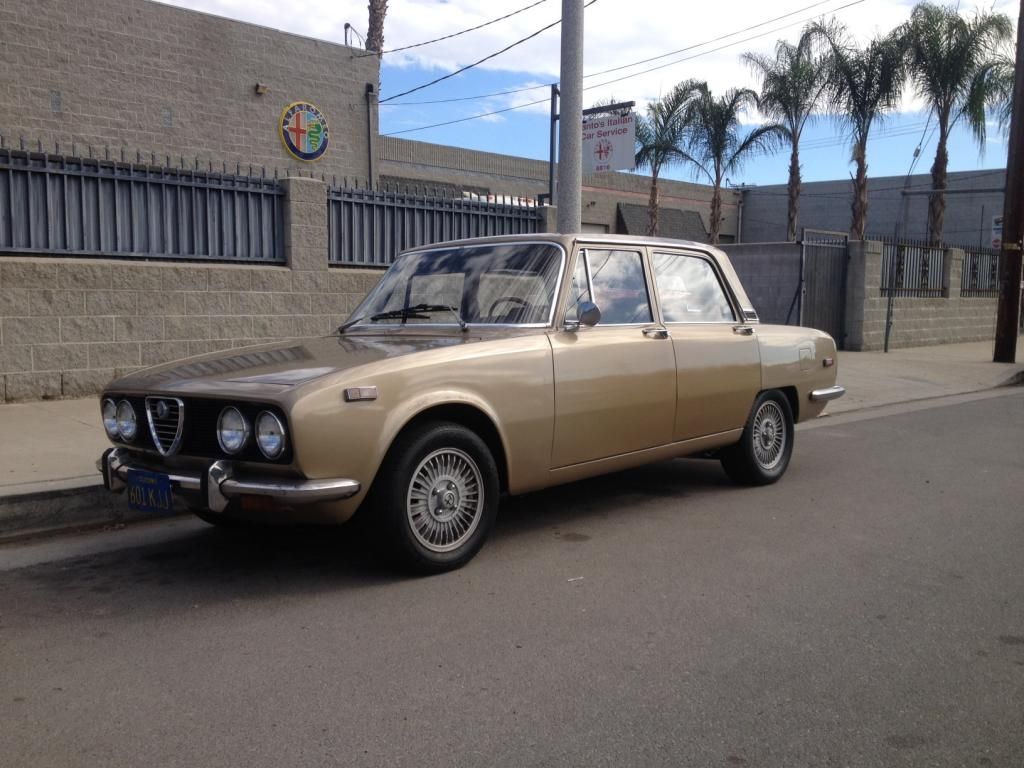 [/URL]
[/URL]
[/URL]
[/URL]
[/URL]