Discussion Starter
•
#1
•
Hi everyone! It took me a while to actually post here, but I figured I'd share what I've been posting on my blog, mikesfirstalfa.blogspot.com, with the group that I've been learning so much from!
I bought this 1981 Spider from board member Fibonacci and couldn't be happier, as it's the culmination of many years of dreaming while wrenching on other cars. He gave me a few really handy manuals including the Dellorto Superformance guide as well as a huge parts catalogue. Overall, the car is what I call a diamond in the rough, needing some body work and a few little fixing ups here and there, but otherwise it's exactly what I've wanted for years (as I'll explain below): A relatively rust-free, carbed, rag-top blast to drive Alfa that will be used quite regularly.
The following is written chronologically, so some things I log in the beginning are fixed by week 2, so hopefully as you read through you'll be as pleased with the progress as I have been.
Project: No Frills Fun Day 1
Oh, where, oh where to start this little bit of insanity I call the acquisition and light restoration of an Alfa.
Overview:
Ever since I can remember being even remotely close to having a driver's license, when it came time to write letters to Mr. Claus, the first big ticket item (because we all had at least one unachievable dream gift each year, right?) was always, invariably, an Alfa Romeo Spider. Now, most kids on the block wanted the Lamborghini Diablo, or Ferrari F40, and so did I, but even more so than that I wanted an Alfa; This, being the result of the one insatiably dogmatic brand loyalty that my Dad ever fostered in me (shunning most everything else that had any kind of label), a loyalty that started with a sleek, silver Alfa residing deep in the dusty barn on the property where I grew up. Something about it was wicked. And I do mean pissah. It might have been the mismatched trunk or the jeweled warning lights, but something about it, even after sitting dormant for years, became etched in my feeble little brain. When it did start, the best thing that possibly could have happened to affirm my total passion and dedication to the brand: it scared the daylights out of me. Mind you, a lot of things will scare you when you are 4 or so, but this was loud and raucus in a way that growing up around sedate mini vans could never prepare you for. Somehow, being scared witless was cool.
And that is ultimately the point of an Alfa -- it eradicates any ability to reason, destroys your wits, and instead introduces passion with an insatiable desire to see the lines drawn in sand for every warning light, dented panel, or rumbling exhaust and take a running leap right across into the other side. I've actually tried to explain this before and it's almost impossible to put into words... it's the sort of thing you have to fall into, where a series of life's experiences culminate into one large realization based purely on impulse, letting those prior moments facilitate the justification for something that you must have at all costs based on no qualification greater than the feeling of life, of being alive.
I think, 'Alfa qua vitae' is probably an appropriate summary of that.
Fast-forward to many years later, and, even knowing full-well that he probably could be spending time doing other things, Dad still has an Alfa, a green Veloce Spider model, and I constantly bug him about getting it on the road and up to shape; The kind of persistent pestering that he's actually taken to avoiding by heeding it -- for a few months now he's actually been working quite a lot on it fixing an intermittent starting problem that was simply a bad ignition tumber, a faulty clutch slave-cylinder, and as we speak is repairing a leaky radiator. As the process goes, he finds something that is broken, I go online and find some helpful information or the part to fix it, and then he goes from there, and all of this is a great way for us to keep in touch while I'm 400 miles away. Anyway, one day, while digging for information trying to figure out the starting problem, I happened upon an ad for a 1981 Spider, 2 liter with a twin 40mm Dellorto carburetor conversion, low mileage, very local, and just the right price. After contacting the owner I went to look at it, and sure enough it looked, drove, and ran exactly as well as I needed it to, and maybe a bit better, so the inevitable happened: that little idiot inside my brain clicked and forced me into 'strike while the iron's hot' mode. I immediately listed my extremely reliable BMW, a car that was quite difficult to part with as everything had been so right with it from day one, onto the web-classifieds. A few weeks later, it sold, and I again contacted the owner of the Alfa, Tom the Alfisti, to see if it was still available. This actually made me quite nervous, as since we'd been out of contact there existed the large possibility of the car already being sold to another person. Luckily, my fears were put to rest when he assured me that it was still available, and that I could pick it up that weekend, which is exactly what I did: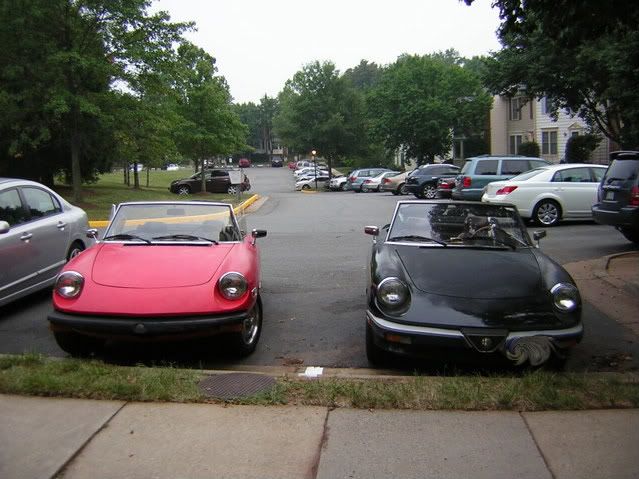 The new (to me) red Alfa the day I picked it up, sitting next to it's younger sibling that's still owned by Tom.
Practical Justification:
OK, so being that we're in an age where personal fiscal and environmental responsibility are emphasized without pause, it really is only fair that I make a case for why, apart from a passion for something, the purchase of a nearly 30 year old, carburetted, paint dulled vehicle can be explained.
*Reusable resource: while many newer cars operate with far greater efficiency, producing very few hydrocarbons at the tailpipe, etc, the amount of resources required throughout the production life-cycle when assembling a new car is astonishing when you consider that the development and machining of all the tooling equipment, the refining of raw resources, and sheer volume of oil required to fuel that process before any gasoline ever even enters a tank. Yes, getting a new car will generally produce fewer emissions and consume less fuel than an older one (even though these Alfas are more than capable of achieving 30+MPG when fitted with fuel injection, a figure that many car manufacturers still strive to achieve), but I just simply can't justify supporting the idea that next year's model is the best one yet, and that we need to keep disposing, trading, our cars in for new ones to be 'responsible'. If I can reasonably maintain a car so that it is at peak efficiency and already using relatively little fuel, what justification is there for spending more money to use more resources to purchase something that will probably perform around as well as the old model did? OK, ok, this isn't perfectly justified by this particular purchase, since it's currently running on carbs, however it would be very easy to convert it to its original fuel-injected format, and not much harder to modify it in such a way as to accept modern electronic fuel injection. But, even still, the car runs, drives, and handles well many long years after its original toolings wore out, and still gets very acceptable fuel mileage. Moreover, for those who forgot to pay attention to recent history, during the fuel crisis embargo of the 70's many car manufacturers were forced to reinvent their product line to meet the demand of consumers wanting fuel-frugal cars and who were beginning to change their auto-loyalties from American to Japanese brands that had only a few years before begun importing, and originally strugling to sell from their lots, affordable gas sipping models. During all of this, Alfa only had to make minor adjustments to their fuel and emissions equipment. Other than that, an engine and platorm that was designed in the 1950s was still matching many modern contemporaries when it went out of production in 1994.
*Cheap: Because it's over 25 years old, I have the option of registering it as an antique and receive a drastic reduction in registration, insurance, and inspection fees. Even when registering it as a normal vehicle, there will be nearly no annual taxes on it, the sales tax will be very cheap, and it will be reasonable to insure. Seriously, $24/annually is a lot better than the ~$500/annually the county will drain from you when buying a new car. That money will go directly to keeping it maintained, efficient, and reliable.
*Good Investment: Right now, Spider values are on the rise, and have been increasing over the last decade or so at a rate of about ~10% present value/year regardless of condition. These were not produced in incredibly large numbers, so ones that are running and in good condition command attention and money from enthusiasts and investors alike, and will only continue to do so as the number of vehicles available inevitably becomes lower.
*Practicality: It actually has a large trunk! And heat, and a radio, seat belts, disc brakes, 5 speeds, and other features that are still considered the standard today. It's perfectly usable in a daily environment with some care and attention, and certainly stands out from the crowd.
Goals (rough summary):
Light restoration involving (description, followed by estimated time to completion after start):
*Strip down of body, remove and replace any damaged panels, make general repairs to body as necessary and repaint. Convert bumpers to pre-75 stainless type. 2 years
*Replace current torn vinyl top that has fixed, cloudy window with cloth top that has a clear window that can be zippered down (for when the top absolutely must be up, but needs some extra ventilation) . = ~6 months
*Clean up engine bay, tuck away loose wires, etc, paint valve cover, replace fan, clean, balance, and tune carbs, etc. etc. = ~ 7-10 months
*Remove and replace (as necessary) all driveline and suspension components. = ~ 2 years
*Drive at least 10k miles a year, all four seasons
*Meet Mrs. Robinson
Day 1:
After driving the car home with no problems I've spent the day going through the general basics to make sure it will pass inspection. A few things came up during this, and while for the most part it should pass everything just fine, I'm going to need to figure out why the window washer pump isn't working (why is this a problem on every single used car I buy?!), why the blower fan isn't operating under power (spins when it's pushed, so I'm hoping it's an electrical issue, and is probably just a relay), and where to get adapters for the Bosch wiper blades that came with the car in the trunk.
Progress (good):
-cleaned all glass, and 30 years worth of gunk out of rear view mirror
-lubed contact points, especially seat sliders & roof mechanism
-started working on getting paint to at least shine a bit
Other things (badish):
-Car came with map light built into mirror, sweet! Map light doesn't work. Bugger.
-Will need to fine tune the carbs a bit to see if I can get rid of the intermittent off-throttle, or mid-throttle spitting that's occurring around 3k RPM.
-Rear end could be a little tighter, will check that out later
-Catalytic converter heat shield (or other) rattling at low RPM, will need to get under to repair properly
-Paint extremely oxidized, I'm going to buy a buffer (tried doing it by hand, and wow is that a good workout) this week and hopefully will have most of that ironed out. There are sections of the car, which has clearly been repainted before, that also have a bit of bondo that's cracking out. Not huge, but I want to make note and see exactly how thick the stuff was layered on. Hoping that I don't have to do anything drastic, but given the nature of the car I'd like to know exactly how much will need to be cut out and replaced when the time comes.
-Trunk alignment required
-Driver's side door panel gap out on the lower rear corner
-Previous repair to nose was completed, but chrome grille never reinstalled. Will replace when upgrade to 71-74 model year bumpers take residence where the old, rusted, plastic ones currently are.
-Has parking lot bumper strips, and while they might be an original option, I'm going to remove them since one of the goals of this project is to make sure that the car retains as many clean, original lines to the body as possible
-Sun visors deteriorated, flop around, will need to come up with a solution for this.
Car is AWESOME under power. Never had anything sound like this before, even the twin cam VW GTI, it's just a completely raw experience.
A few photos, just kind of getting an overall picture of it: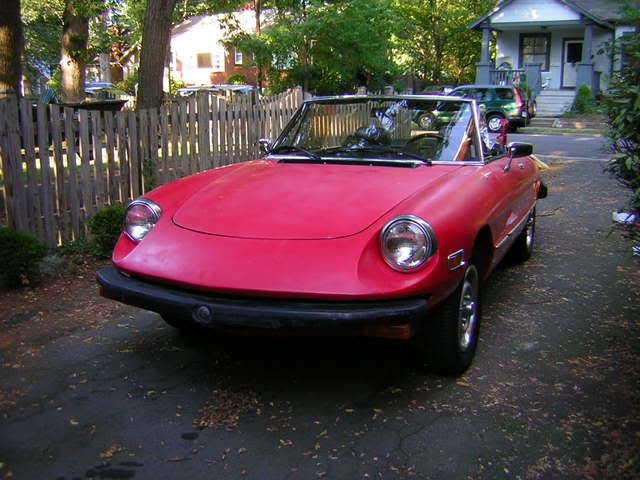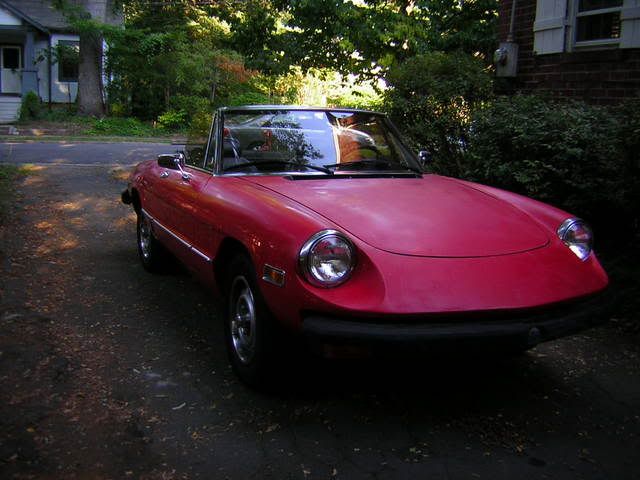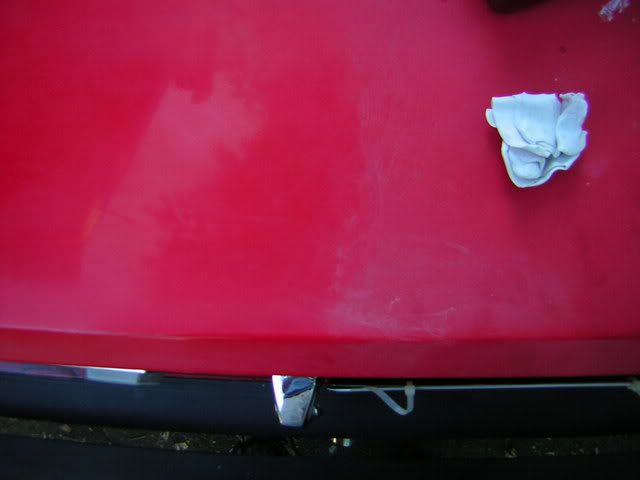 All in all, a great day. I hope to keep this updated regularly, but for now I have a few projects at work to deal with as well as actually getting this registered and inspected, so all of that is going to have to take priority before I do anything more comprehensive.
-Mike