Discussion Starter
•
#1
•
I purchased the following dark charcoal leather dye for the seats in my 1992 164-S. I could add a photo but just use your imagination; they look like new again!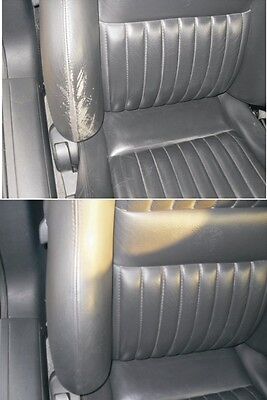 As previously discussed, attached are before, during and after photos of my Alfa GTV drivers seat using your leather cleaner and dye products. GTV 3.0 1999. GTV ?. Momo GTV ?. Alfa Brera, 2009, Natural Tan.
The dye was super easy to apply and easily covered scratches and 28 years worth of wear and tear. The color matched perfectly. Initially the areas where dye had been applied seemed a bit duller than other areas but after sitting on the seats a time or two the dyed areas polished up to match perfectly. I have no commercial interest in making this post; just want to help others. You can buy dye through eBay as I did or contact Stephen Lewis in the UK at
www.carleatherdye.com
Shipping took 2 or 3 weeks so you have to be a little patient. And by all means, wear good protective gloves when applying the dye. One of my gloves ripped during the application, that dye is very tenacious!
Mark