Discussion Starter
·
#1
·
Just curious. I recently changed my in-tank fuel pump and fuel filter.
The gas that fell out of the fuel filter looked a little rough. I let it sit in this jar and the "contents" settled to the bottom. When disturbed the fuel resembles brake fluid more than gasoline. (Please see Pics)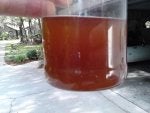 Is this normal for an old & dirty fuel filter? What it that sediment anyway??
BTW I let the in-tank pump dry out and it rattles and shakes a good deal inside, not like an impeller shaking but like something rattling.
I'm also awaiting the arrival of a brand new in-line fuel pump, since it is located just before the god-awful looking filter.
Thanks in advance for educating me-M5