Discussion Starter
·
#1
·
I had the recent "pleasure" of replacing my ignition switch. It wouldn't have been too bad a job if not for the locking bolt removal.
Honestly, we should be able to meet that engineer and ask "just what were you thinking of when you designed this?"
As you know, if you have found this thread that the locking bolt is for lack of a better term, "a breakaway bolt head". Meaning that once in place you continue to turn the bolt head and it snaps off. Ya, it snaps off on purpose!!!!!!!!!!!!!
So you are left with a headless bolt. Not only that, it is literally located 180 degrees on the other side of the steering column. So you need mirrors and blind feeling around to find it. Unbelievable!
When its time to remove the ignition switch, in today's times, you use a dremmel to cut a slot in it and work its way out. I would love to know how Alfa thought this could be done without the dremmel. You can't get a drill back there.
Here is the cut broken bolt seen just about centre.
Even after cutting the slot, it wasnt easy to get out. I read all kinds of posts that say it was easy, but not mine, oh no, not mine. I broke to srewdriver tips to get it out.
As I have read on the BB, its better to install a bolt or the kind for the next time. So I found this hex head bolt and it will be way easier the next time around. Thought I would post the dimensions for anyone searching.
The appropriate size is M6 x 1.0 x 20mm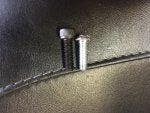 Hope this helps.
Vin