I have a set of Jongbloed 213 wheels, made in May of 1983, sitting around that I really just want to get out of. Was going to get the holes filled and re-drilled from 4x108 to 4x100 so I could run them on my VW but can't bring myself to do it. Plus I need the money for my move from MI to CA next month.
Since I purchased them I've disassembled, had the centers media blasted with a mix of walnut shell and #10 glass bead, got the lips polished (there were no curb marks so they came out perfect), and wire-wheeled the barrels.
They appear to have forged centers with spun lips and barrels. You'll probably never see another set of these again in your life.
If you want wider lips they are still available from Jongbloed in any size.
Would like to see $1000 obo out of them. Thanks!
*edit* Regardless of what people say here, I called Jongbloed, gave them the wheel specs with pictures, and they confirmed that the wheels were most likely originally made for old Alfa GTVs (which use FWD offset)... Thanks for pooping on my thread.
When I got them (still had the 24yr old stickers):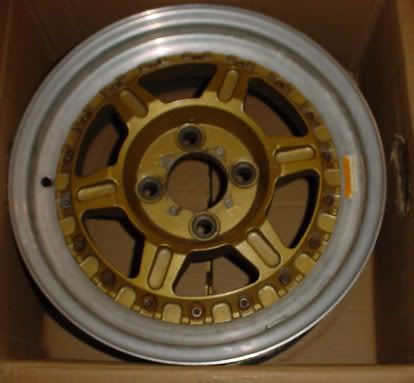 Centers and barrels stripped:
Polished lips (the face sits over the bolts so that isn't polished):