Well, the weather's finally warming up so I thought it was time to start the disassembly of my 1969 GTV. She's a US spec 1969 GTV that was built January 10, 1970 so she's just had her 40th birthday! Her original color was Dutch Blue but has apparently had a VERY thorough respray to red at some point in her past. And YES, she will be repainted Dutch Blue!
Hopefully it won't be too awfully long before she drives out under her own power again.
One of the few places where the original Dutch Blue can be seen is where brake fluid leaked and peeled the red paint.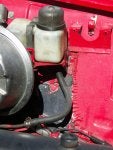 For more overall photos look
here
.