Hi,
I did post earlier this year a few comments on some posts but now it's time for me to introduce my project. The title of this subject would have been "74 GT1300junior - Reassembling and "light" restoration project" but having seen on this BB what restoration is and what it takes... I chose a title somewhat less pretentious
I planned of talking of my project on some French forums and I did find a lot of information and some very good experts of the Giulia GT cars but most of the time the posts are endless talk about other things making the information difficult to retrieve amongst the "chitchat".
That is why I'm taking the risk of posting here on the Alfa BB even if my English is not good enough… let's say that I hope that our common interest for some Italian beauties will make things easier for the understanding.
Sorry for the mistakes I make when writing in English, I hope I'll not be offending or rude.
I bought in December a GT1300junior that was disassembled by the previous owner in order to have the car repainted (at least that is what I was told). The seller didn't have time to finish the project as he has other things to deal with such as a Lancia Fulvia and a job change that implies to move to another city.
When visiting/seeing the car I was pretty much confident in the state of the body (very little rusty spots and virtually very few to be done on the body... maybe we'll have the opportunity to talk about this some day).
I knew the car has to be reassembled and I'm not sure I have all the parts of the jigsaw but I'm willing to do it... as I do have some time and a lot of patience
Well I bought the car for a fair price and it comes with 2 engines (both 1300) and 2 gearboxes (also both 1300).
I brought the car back to Paris where I live (a 800km drive... about 500 miles) and I stored it for a while in order to finish arranging the garage where I'll be working on the car. The garage is now ready!
I won't be alone on this project as my wife's father will be helping. The man is very excited about this project as he owned 4 of the GT bertone in his "young age"... he likes to tell how he met my wife's mother with his Giallo Ocra 1750 GT and told her that in order to cross the street she'll have to climb in his car (he was parked on the pedestrian crossing and to be honest it was not that simple as he had met the girl earlier in the building she was living in and already had a little chat with her...).
Let's go back to the GT1300Junior. It was originally white, the car comes from Germany and was bought by the previous owner who repainted it in Rosso Alfa 501 (color to be confirmed as I'm not sure about the degree of craftsmanship of the "painter").
The car still has the German paperwork and I'll have to change this but even if paperwork in France are a pain it is much easier now that we have EEC (European Economic Community).
I finally started "working" on the car last weekend:
- First an inventory of what I need. Not finished yet and my guess is that it is far from being finished (yes I do speak of the inventory because for the entire project...
).
- Then I started to clean up the engine a little as it was covered with grease, grit and crap.
Anyway I know that I won't do a tenth of what Rossano, akitaman and some other on this BB do as I don't have their abilities but I still want to share a little (and get some info also
).
Enough talking, here are a few pictures…
packed (after negociating with the seller)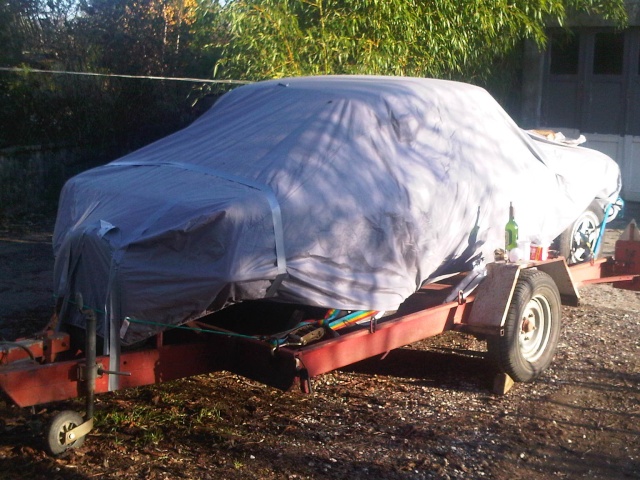 on the way back to Paris
moving to my "garage"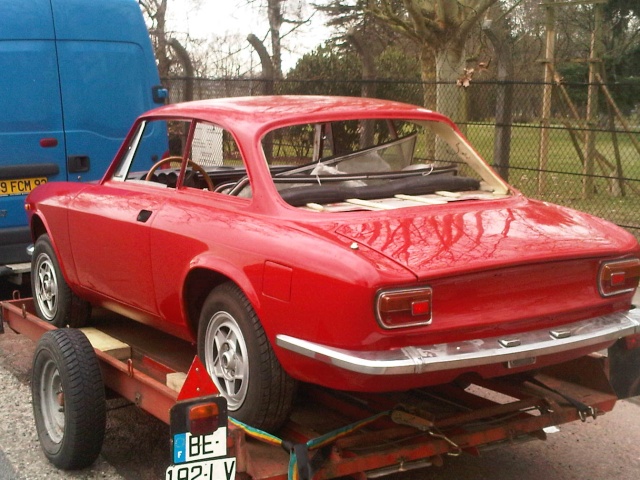 at home in the "garage"