Progress with Platinum
---
Okay so I am getting close to finishing this car up
Fixed rust in the rain tray, used fiberglass, sheetmetal and rivets...a bit frankenstein but it works:
Engine bay pretty much finished:
3/4 of a Recaro interior (AlfaBB please help me find another front seat):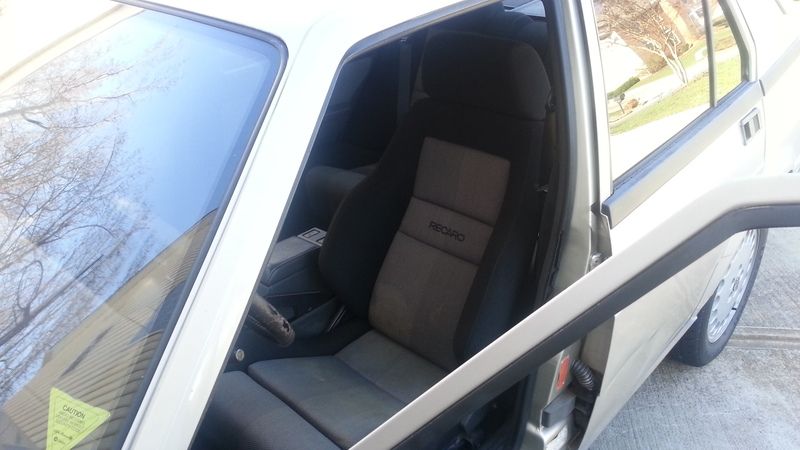 Not bad for a $500 car (well more in it than now!):
Only needs:
Tires to replace dry rotted ones
High pressure power steering line (mine has a leak)
Fix exhaust leaks
Tidy up suspension (over time)
This will likely be my driver once I get it to CA later in Spring. Anticipating smog...should I bite the bullet and have my exhaust guy just weld in a CARB compliant Magnaflow cat? It has been welded a few times on the factory unit, and it one of the sources of the exhaust leak.
Car runs nice...been driving it around my neighborhood.
---
87 Milano Platinum
Senior Member
Join Date: May 2005
Location: seattle
Posts: 12,052
For the steering fluid leak, first try the Lucas Power Steering Stopleak. The stuff works in many cases if seals are leaking, but of course, won't fix a hose which leaks due to a flaw, nor will it tighten loose fittings, lol. For old leaky seals, yes, try it.
---
Del

Seattle

89 Milano (wife's daily driver since 1989, Shankle Sport)
91 164S (my daily driver since 1994)
94 164LS (~Q) (trip Alfa since 2000)
72 Morgan 27 (water time since 1976)

previously owned since 1964:

62 Morris MiniMinor 850, 67 Austin 1275 Cooper S (Downton 3/4 race), 64 Giulia Sprint GT (1st red one made), 72 Fiat 128 Sedan, 75 Alfetta Sedan, 78 Alfetta Sedan, 78 GTV, 81 GTV6, 86 GTV6
It is the actual high pressure hose...has a pin hole and leaks under pressure. Don't like it without power steering.

Sent from my SM-T560NU using Tapatalk
---
87 Milano Platinum
Registered User
Join Date: Jul 2011
Location: Baltimore, MD
Posts: 53
Is there a supplier selling the high pressure hose or did you have it rebuilt by your friendly local hydraulics shop?
Looking good!
Actually was able to procure all parts from Al Taylor. I have been stalking him since last summer and finally convinced him to drop parts off at my friend's house in Raleigh. I will pick them up this weekend when I'm back in NC.

Sent from my SM-T560NU using Tapatalk
---
87 Milano Platinum
Cleaned up the new Recaro and installed it in the driver side. It has a torn bottom cushion support (called a bladder?) so I just shoved my E30 Bentley underneath. It allows you to sit quite a bit lower than stock Recaro.

Installed the Bilsteins as the OE Sachs shocks were so worn! Firms up the ride nicely. This car desperately needs an alignment and new tires.

When I am back home next week we will install the power steering hose, acquire tires and hopefully title and register the beast. Then who knows...might put it up for sale or bring it to California.

Sent from my SM-T560NU using Tapatalk
---
87 Milano Platinum
Posting Rules

You may post new threads

You may post replies

You may not post attachments

You may not edit your posts

---

HTML code is Off

---