Registered User
Join Date: Nov 2016
Posts: 19
Front suspension removal on 2600 Sprint
---
Today I put the big boy pants on and tackled the removal of the front suspension. I spent a week thinking about how I was going to safely tackle this task, and today managed to successfully remove both sides. This is just how I did this, it is not meant to be the definitive way of doing it.
As there is still a lot of tension in the spring at full droop, I needed a way to slowly lower the lower spring plate from the A-Arm in a controlled fashion. I decided to use a number of C-Clamps I had to clamp the plate to the A-Arm while I loosened the four bolts. I kept the nuts on as a safety measure in case one of the clamps slipped.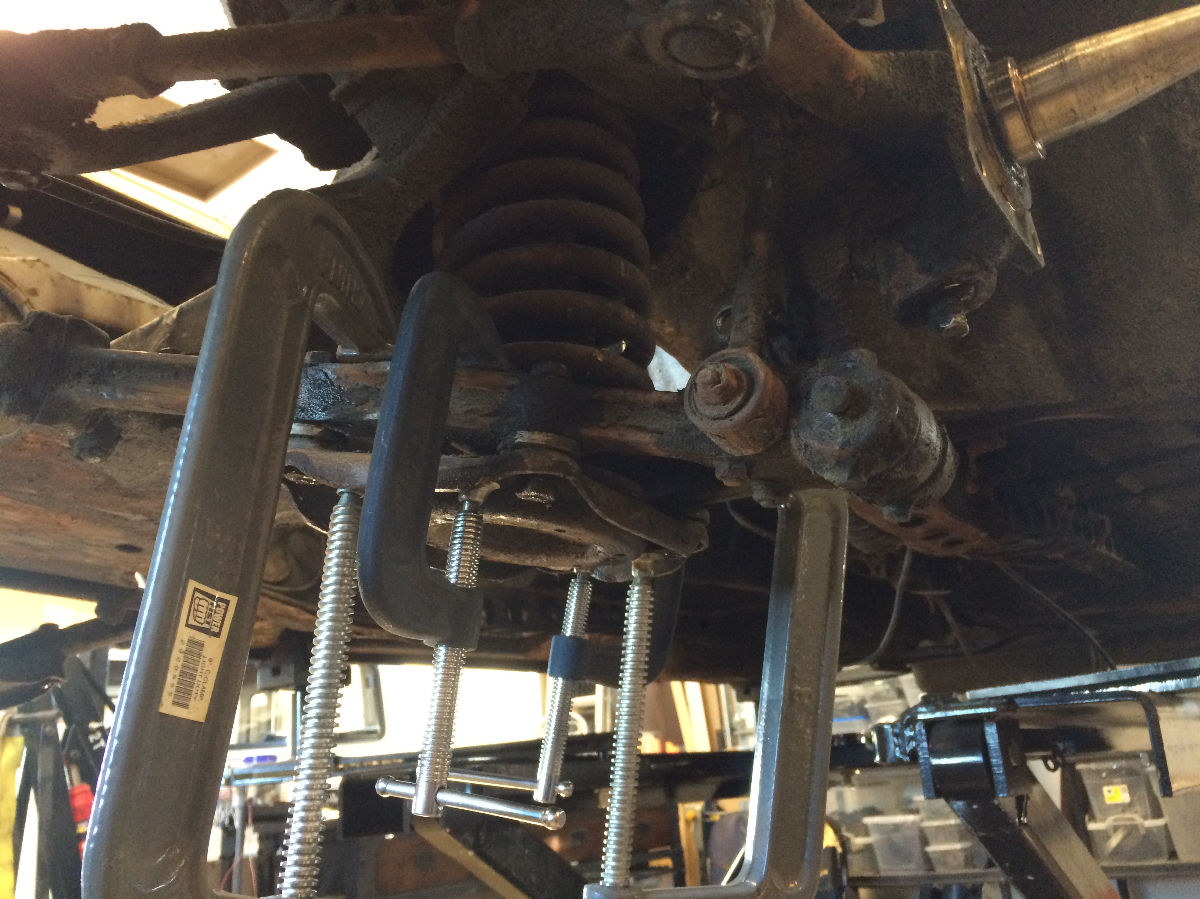 As I started to loosen the clamps, I swapped out the Alfa bolts for some longer ones I had in the garage and kept loosening.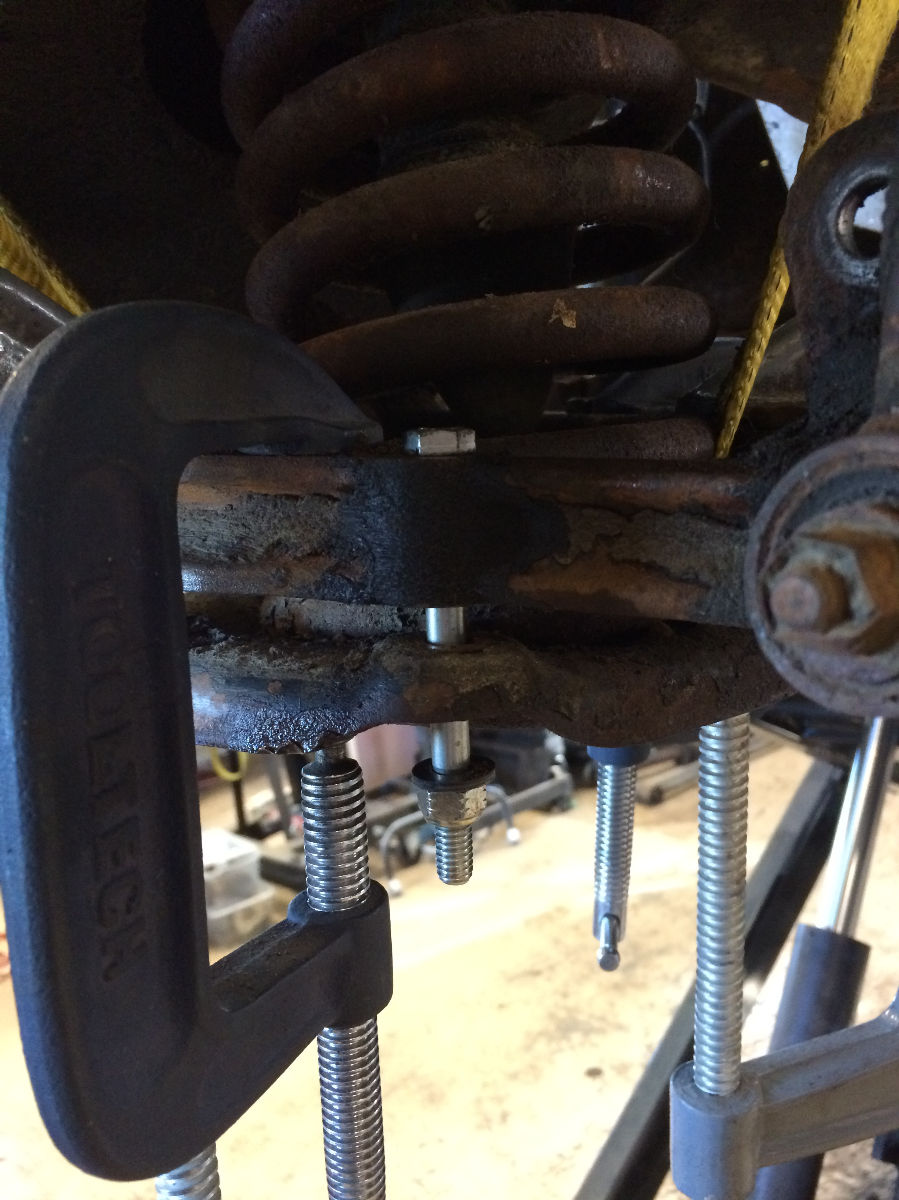 And kept loosening...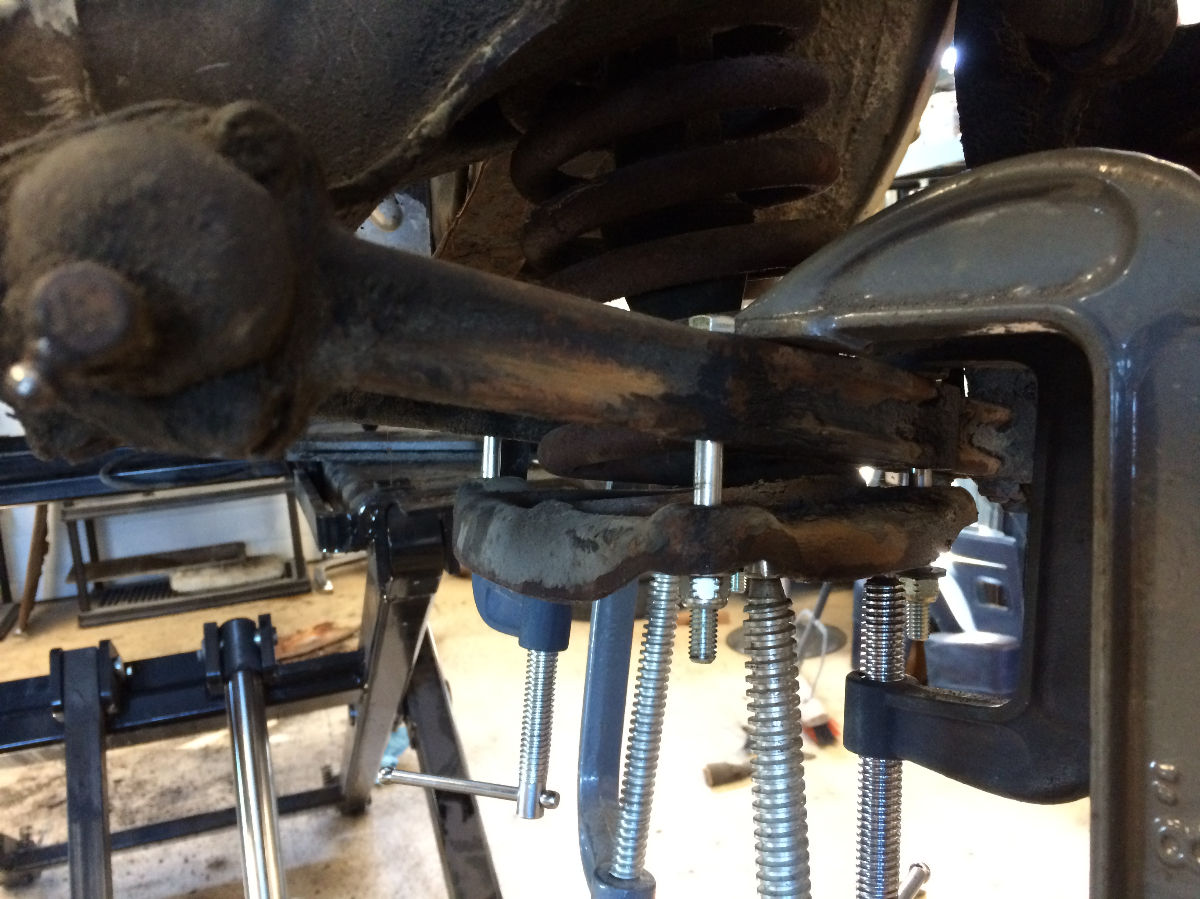 At a gap of around 2" I needed to change out my longer bolts for much longer bolts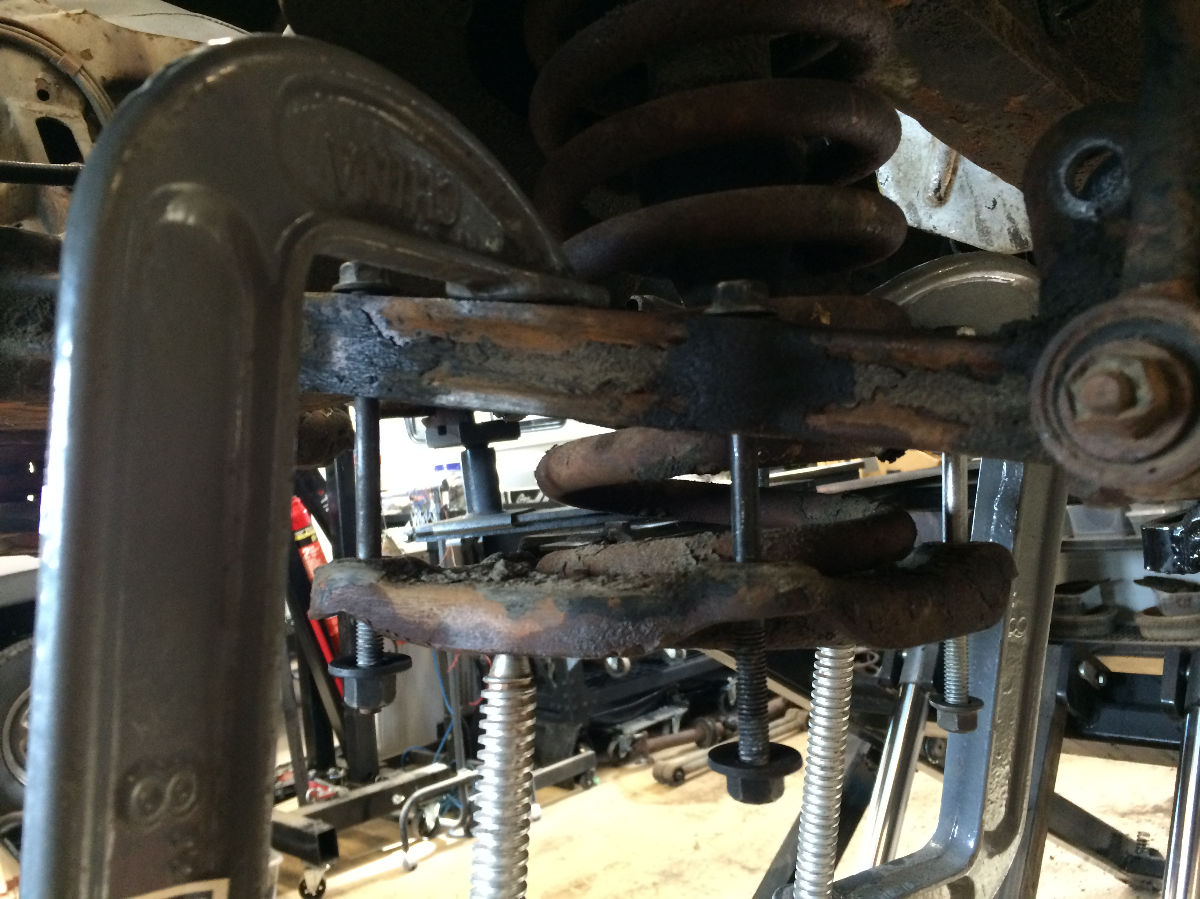 The back of the plate moved down more than 4" and the spring was still under compression. This just shows how much energy is still in the spring at fool droop, and how dangerous it could be to try and remove the suspension without taking the tension out of the spring first.
I then had to remove the rear bolts to keep opening up the gap as they were the longest I had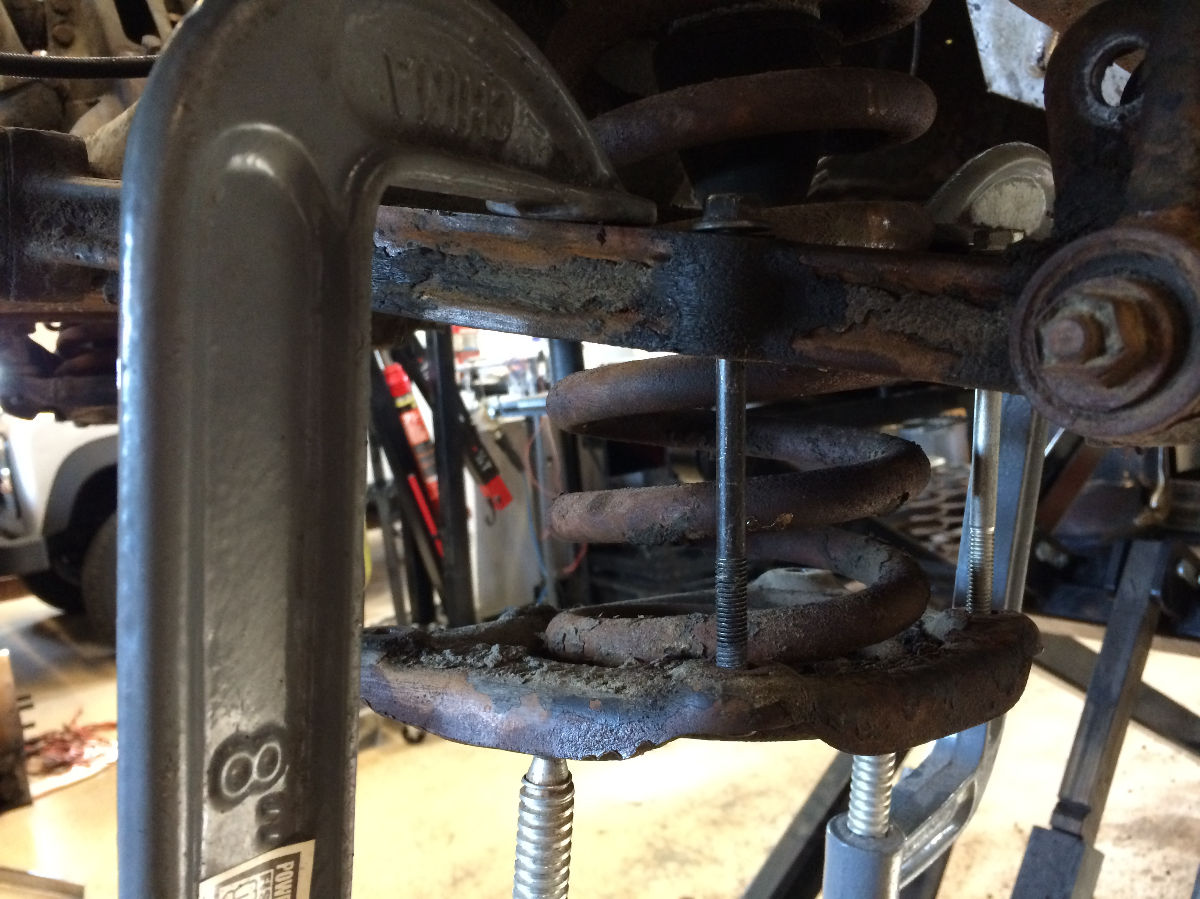 I then put a floor jack under the spring and slowly lowered the car down, just enough to take the pressure off the clamps. By this time, the spring had lost of its energy, and the car without engine was easily enough weight to start to compress it.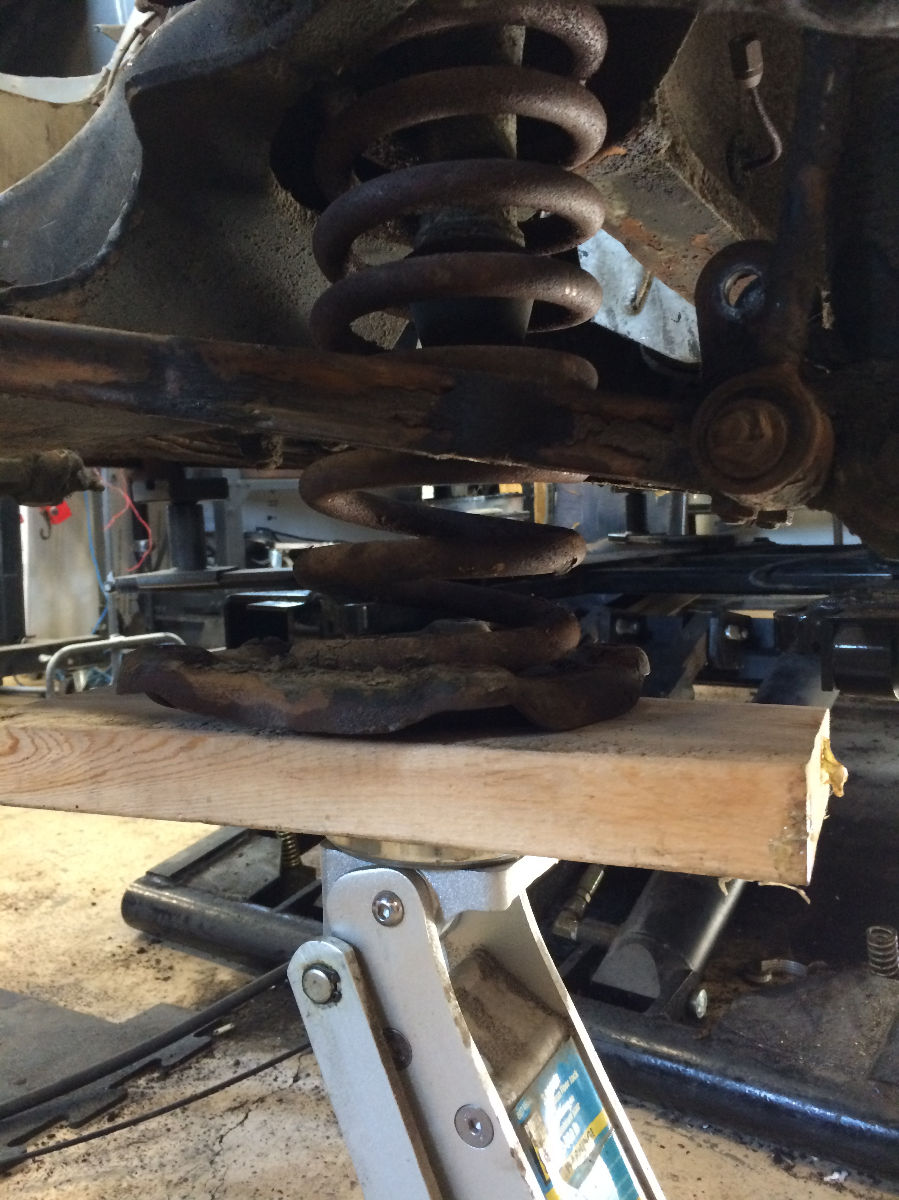 So after a full day in the garage, I now have the front suspension removed ready for tear down and rebuild. Quite a satisfying day!
Cheers,
Steve
Push hard and live
Join Date: Apr 2007
Location: Carson City, NV
Posts: 6,860
I recommend you buy several lengths of hi-strength all-thread in 10mm or 3/8", whichever is easier to find. Cut four lengths sufficient to achieve release of the lower pan/spring couple. Weld a hex nut in place on one end of each piece.

When installing or removing the Spring pan, install all four of these rods from the bottom up. Use an air impact wrench to sequentially tighten or loosen each rod. Keep the threads of each rod well lubricated.

If memory serves, the inner rear hole will not accept a full-length rod when fully bolted up. Thus, you can use a full length to start the installation, and transition to a shorter one when you are part-way pulled up.

The only time a C-clamp might be necessary is when you remove a rod to insert the final bolt.
---
Don P
Carson City, NV
Past Alfas...
59 102 Touring (first Alfa $500 running)
65 Sprint GT (2nd Alfa, $500 daily driver)
102 Sprint (never did anything with it, but wish I had)
74 Berlina (first new car - now certainly rusted into oblivion)
61 Giulietta Spider G-Prod Race Car (where is it now?)
84 Spider Veloce (rarely drove it, so sold it)
86 Quadrifoglio (Dull car - no more 115s for me)
1971 Montreal "The Full Monty". Fair winds and following seas
Current Alfas
59 102 Touring Roadster - restoration complete, enough Alfa for any rational man. Or irrational, for that matter
And past...
Two 1946 Stampe SV4C (c/n 294 "Rocinante" - wife's favorite airplane. RIP), and c/n 235 "La Bon Temps Femme" (gone to a new home, but never forgotten)
Zlin 50LA (+9 -6 gees, titanium spar, 1200 lbs, 260HP rumored to now be in Brazil)
1946 Luscombe 8A
Starduster Too (recently spotted at the Nevada City, CA airport - over 20 years and an entire continent separating it from our stewardship in Binghamton, NY)
1955 Cessna 170B (wife taught me to fly tailwheel in this)
And present...
64 Mooney M20E ("Rambo". My faithful steed for over 30 years) Nearly 50 years old, and just returned from a trip to Argentina in him
Newest in the fleet
1967 Piper Super Cub on Wipline amphibious floats (a true "all terrain vehicle")
2010 Triumph Thunderbird

You can snap roll an Alfa only one time...
Registered User
Join Date: Mar 2014
Location: Aix en Provence - France
Posts: 572
Hello,
I fully agree with Don. An illustration :
Ouch
---
NOO - pLease no

Using C clamps like this is not safe. I tried this once at college on a strut we had removed from a car. The clamp slipped off and the spring shot at me . I quickly lifted my leg and turned to see the spring go straight through a fence behind me
Registered User
Join Date: Feb 2008
Location: Georgia
Posts: 2,571
Red, Ghibli was using bolts as well as the "C"-clamps. I suspect you were only using the 'C'-clamps with the fence as a back up.

I'd encourage Ghibli to follow Don's suggestion with the addition that each of the four rods be approximately 10" long. Just remove one bolt at a time and replace it with a rod (reverse the process going back up). You can 'double nut' the upper nuts, if you don't have access to a welder. Make sure that you buy good quality 'all thread' not the junk from China that the big box stores sell. Lubrication with anti-seize compound or grease is very important.

If this is something that you'll be doing again you can get better quality rods, with threads cut similar to those in your C-clamps for a few more bucks.

Mark
Posting Rules

You may post new threads

You may post replies

You may not post attachments

You may not edit your posts

---

HTML code is Off

---